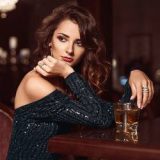 Je eerste date met hem of haar staat rood in je agenda.
Je vindt de ander leuk, interessant en aantrekkelijk.
Je wil iets speciaals doen, om indruk te maken tijdens de eerste date.
Het saaie bruine café op de hoek van de straat klinkt niet als het beste idee.
En daar heb je gelijk in 😉
Daarom geef ik je hier eerste date ideeën, waarmee een je sterke indruk achterlaat.
En je op je vingers na kan tellen dat de tweede date er ook snel aan zal komen.
Belangrijk: Dit artikel is voor mannen. Ben je een vrouw, dan verwijs ik je graag door naar het artikel speciaal voor jou:
21 Beste eerste date ideeën voor vrouwen + De 3 gouden principes
Dit is wat je vandaag krijgt over eerste date ideeën:
29 eerste date ideeën waarmee je haar van je d'r sokken zal blazen
5 tips om tijdens je eerste date haar al verliefd op je te maken
Date ideeën die je overal kunt doen. Ook in het verre noorden van Groningen
Mijn hulpmiddel om te je eerste date met een succes af te ronden
En nog veel meer om op te noemen…
Wil je trouwens écht goed worden met Tinder en Whatsapp? Download dan eens mijn Gratis Tinder & Whatsapp Spiekbriefje met 25 geweldige tips om altijd die date te krijgen.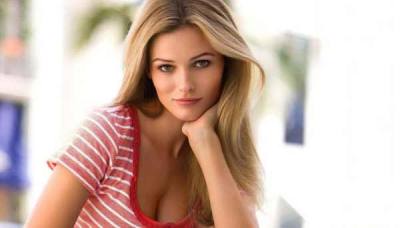 Let op: De ideeën staan op alfabetische volgorde. Lees zeker tot het einde door om alle inspiratie tot je te nemen.
En de tips mee te krijgen die ervoor zorgen dat je niet met haar op de eerste date blijft steken.
29 Eerste date ideeën die ervoor zorgen dat je met een tweede date idee moet komen
Idee 1: Arcade hal
Ga op je eerste date los op alle retrospellen van voor de eeuwwisseling.
Mario, airhockey, time-crisis, racen in kuipstoel… Noem maar op.
Ga naar TonTon in Amsterdam, of Gamestate in Utrecht en Rotterdam
Maak een weddenschap met je date. Wie verliest, moet straks de cocktails betalen in het volgende café.

Idee 2: Biosje pakken, maar dan goed
Wil je echt op je eerste date naar de bioscoop en film kijken?
Doe het dan in ieder geval op een speciale manier.
Tik even bij Google in: Openlucht bioscopen.
Of denk aan drive-in bioscopen.
De insteek achter dit soort bioscopen is net anders. Deze begrijpen dat als je op date bent, je aandacht wil hebben voor elkaar.
Zo zit je bij drive-in-bioscopen samen in een auto en bij de openluchtbioscopen hebben ze vaak twee persoonsstoelen waardoor je niet van elkaar gescheiden bent, zoals in een normale bios.
Daarnaast is het lichter en stoor je anderen niet als je tussendoor even praat.
En kies anders een net te saaie film uit, zodat jullie elkaar interessanter vinden op je afspraakje.
Idee 3: Bootvaren
Huur samen bijvoorbeeld een kajak op je eerste date en ga de waterwegen van Nederland verkennen.
Alle lof naar de Biesbos. Dit is een perfecte plek om een bootje te huren. Je kunt overal aanmeren en op verkenning gaan. En je hebt kans dat jullie niet eens iemand tegenkomen.
Of kies ervoor om rondgevaren te worden door het centrum van Den Bosch. Je gaat dan met een bootje onder de huizen door.
Idee 4: Cabaret
Ik heb nog nooit een succesvolle date gehad als er niet werd gelachen.
Ga daarom op je eerste date naar een cabaretvoorstelling.
Een beetje stad heeft wel een theater waar regelmatig korte optredens zijn van opkomende talenten of try-outs van bekende cabaretiers.
Zo heb je toch kunnen lachen gieren en brullen, maar hoef je niet voor uren naar een derde persoon te kijken op jullie eerste date en hebben jullie genoeg tijd om elkaar te leren kennen.
Bijvoorbeeld in een café waar jullie ervoor of erna heengaan.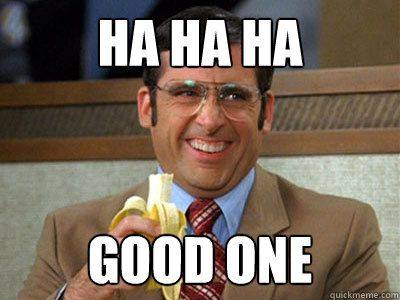 Idee 5: Café
De meest standaard eerste date is natuurlijk samen een drankje doen.
Maar standaard hoeft niet saai te betekenen…
…Mist je weet wat voor café je wil uitkiezen.
Ik heb een aantal tips voor je:
Zoek iets met een huiskamerstijl, kijk of er banken zijn zodat jullie samen naast elkaar relaxt kunnen zitten. Tegenover elkaar laat het op een sollicitatiegesprek lijken waar je jezelf moet bewijzen.
Zoek iets dat past bij je persoonlijkheid. Als je ingenieur bent, zullen de wat industrieel-achtige inrichtingen je beter passen. Houd je meer van knusse plekken, zoek dan cafés die met allerlei details zijn ingericht. Tegenwoordig komen er ook veel meer 'natuur cafés' op. Cafés waarbij de inrichting eruitziet als een tuin, met veel groen.
Zoek altijd of er een leuk café in de buurt is wanneer jullie een activiteit gaan doen op jullie eerste date. Op één of andere manier hoort iets vloeibaars doorslikken toch aanwezig te zijn op iedere sociale gelegenheid.
Cool.
Meer dan genoeg tips om een perfecte plek te zoeken.
Kijk hier voor een lijst met de beste eerste date cafés in Amsterdam, Utrecht en Rotterdam.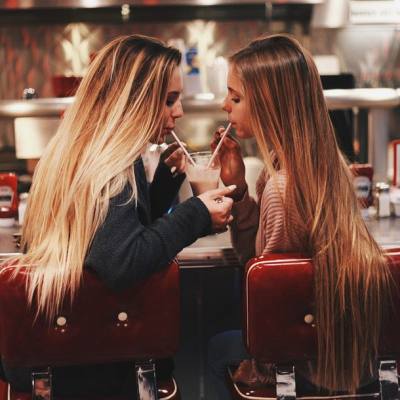 Straks laat ik je precies weten hoe je zo een plek vindt, met zo min mogelijk tijdsverlies.
De hele binnenstad van jouw woonplaats afstruinen is écht niet nodig.
Tip 1: Zo stoom je je in een mum van tijd klaar voor je eerste date
Ga altijd naast elkaar zitten tijdens een afspraakje, dit zorgt dat jullie elkaar sneller leuk gaan vinden. En maakt fysiek contact veel eenvoudiger.
Zorg altijd dat je haar zoent op de eerste date. Anders kun je op je vingers natellen dat je de volgende dag het volgende bericht van haar zal ontvangen:
"Het was gezellig, maar ik voelde de klik niet helemaal. Ik zie je meer als een vriend."
En doe je uiterste best om een sterke eerste indruk te maken bij de ontmoeting. Dit scheelt je enorm veel op de rest van de date.
Wat raad ik je verder aan…
Lees de volgende artikels:
19 Must-Have Eerste Date Tips voor een Onvergetelijke Date
5 Must-have datingtips voor mannen: Zo wordt ze gek op je
En is je eerste date met een Tinder match? Bereid je dan voor door middel van het volgende artikel. Tinderdates wil je namelijk net iets anders aanpakken:
17 Tinder date tips voor een perfecte (eerste) ontmoeting
Maak ook gebruik van mijn Saaie Gesprekken Cheatsheet. Boordevol zinnen die je op elk moment in de conversatie kunt knallen, mocht deze saai worden.
En check zeker deze video voordat je de deur uitgaat:
Dan gaan we nu verder met de lijst aan eerste date ideeën.
Idee 6: Escaperoom
Samenwerken om binnen de tijd te ontsnappen uit een dodelijke kamer.
De spanning zorgt voor bonding, en je checkt elkaar gelijk of er wel vertrouwen tussen jullie zit.
Een actieve date en Escaperooms zijn door het hele land te vinden.
Dus er is er vast één naast de deur.
Vaak waar ze escaperooms aanbieden kun je ook karten of lasergamen. Combineer het om een hele dag zoet te zijn.
Idee 7: Fietsen
Samen fietsen is leuk, je ziet veel verschillende dingen in een korte tijd tijdens je date en je bent samen lekker actief bezig.
Verken bijvoorbeeld een stad die jullie allebei niet kennen op de fiets.
Maak het idee daarnaast nog een stuk leuker door een Tandemfiets te huren.
Speel om de beurt de navigator.

Idee 8: Haven
Bezoek je plaatselijke jachthaven.
Vaak gelegen in de oude binnenstad, wat perfect is voor een wandeling en tussendoor een drankje.
Idee 9: Holland Casino
Altijd al een koning en koningin willen voelen?
Ga dan naar Holland Casino.
Hier word je op je wenken bedient, en gedragen alsof je de 3e sultan van Perzië bent.
Als je naar Holland Casino gaat neem dan het Try Out pakket.
Ideaal om voor een klein bedrag alles in het casino uit te proberen.
Je krijgt gratis entree en een hapje en een drankje erbij.
Idee 10: Kerktoren beklimmen
Steeds meer kerken door het land bieden het aan.
Eerst wist ik bijvoorbeeld dat het alleen mogelijk was bij de Dom in Utrecht. Maar ook de Martinitoren in Groningen en de Westertoren in Amsterdam kun je beklimmen.
Gegarandeerd dat er een kerk bij jou in de buurt is, die ook deze mogelijkheid aanbiedt.
Doe je dit op je eerste date, geef ik je de volgende challenge mee:
Zoen haar bovenop de kerktoren. (Zoenen is toch verplicht op de eerste date). Een veel romantischere plek zal je niet gaan vinden op je eerste afspraakje met haar.
Misschien lukt het je ook wel om een flesje wijn mee te nemen naar boven. Dan kun je zeker op de meest romantische plek van ieder stad of dorp proosten.
Tip 2: Mijn absolute favoriete eerste date idee
Bij deze heb ik op zijn minst 70 dates gehad uit mijn 300+ tinder dates.
Voor mij zorgt deze plek aan de lopende band voor succesvolle dates.
Ik ken de plek van voren naar achter en van binnen naar buiten.
Ik weet precies waar de beste plekken zijn.
Ik weet al bijna iedere naam van het personeel uit mijn hoofd.
Dit wil ik je dan ook meegeven…
…Zorg dat je één plek hebt dat een verlengde van je woonkamer woont.
Je wil het voor jezelf laten voelen als een plek waar je 's ochtends heerlijk zou kunnen ontwaken uit je slaap, in je badpak rond kan lopen, en de deur van het toilet van het slot durft te houden.
Straks geef ik je een hele lijst met date ideeën. Gegarandeerd dat er één tussen is waar jij je tweede woonkamer van kunt maken.
Voor mij is deze plek Roest in Amsterdam Oost.
Roest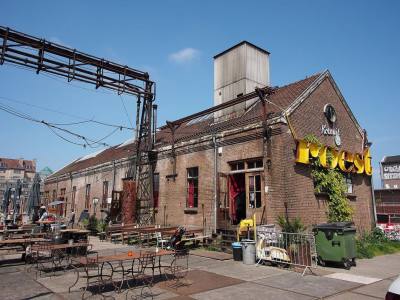 Je kan buiten zitten bij het vuur en kunst checken. Dynamische locatie met divers publiek. Vroeger was het een drukkerij, dus een interessant om te vertellen en de restanten ervan te zien.
Let wel op: In de winter is Roest slechts beperkt open.
Maar dan kun je wel binnen bij het vuur zitten. Super knus.
Zomers zou ik lekker de drankjes mee naar buiten nemen naar het stadsstrand en haar daar zoenen.
Ga in de winter aan het vuur binnen zitten. Super knus. In de zomer kun je drankjes doen aan het stadsstrand.
Dan komen we nu aan bij de rest van de eerste date ideeën lijst.
Idee 11: Kermis
Natuurlijk niet een date die elke dag van het jaar kan.
Maar als de mogelijkheid er is, zeker een aanrader.
Denk aan samen in het reuzenrad, of door het spookhuis.
Ga touwtje trekken en geef haar de knuffel.
Misschien geeft ze je wel een knuffel terug.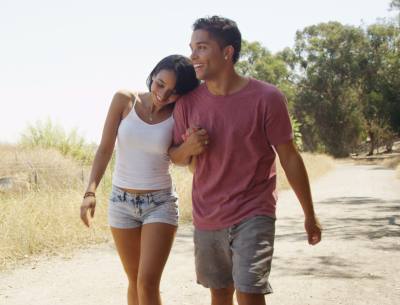 Eet daarna samen een suikerspin of een oliebol.
Klinkt allemaal vrij cliché niet?
Daarom zo perfect als activiteit voor je eerste date.
Idee 12: Kinderboerderij
Wanneer is de laatste keer dat je naar de kinderboerderij bent geweest?
Waarschijnlijk was je toen nog een kind.
Maar wat je nog weet van deze plek is dat het altijd plezier was.
Herleef dit weer samen op je eerste date.
Neem brood mee, zodat je de dieren kunt voeren.
En laat je vertellen over de boerderij door alle vrijwilligers.

Idee 13: Koken
Afhankelijk van je date, kan dit een perfecte eerste date thuis zijn.
Zo ken ik iemand die deze date altijd gebruikt om te kijken of hij en de vrouw goed klikken.
Want zoals Jamie Oliver wel eens heeft gezegd:
"Als je niet kan samenwerken in de keuken, dan kun je ook niet samenwerken in bed."
Jamie Oliver Daan de TRam
Pro-tip: Spreek af bij de supermarkt. Iemand op de eerste date gelijk thuis uitnodigen kan het verkeerde idee geven. Door bij de supermarkt af te spreken en eerste en tijdje samen door te brengen verlaag je deze drempel enorm.
Koken als activiteit op je eerste date kun je natuurlijk ook omwisselen met smoothies maken, cocktails maken, of iets anders.
Idee 14: Kroegentocht
In plaats van dat je je hele date in één café of kroeg doet, doe over één drankje en ga dan door.
Als je van bier houdt, houd ik je niet tegen om bij elke kroeg een speciaalbiertje te doen.
Maar je kan het ook interessant maken door een spelelement aan je date toe te voegen. Neem bijvoorbeeld een spel kaarten mee en speel in iedere kroeg een kaartspel.
De verliezer moet een shotje nemen.
En dan hup, naar de volgende.
Natuurlijk hoeft het niet om alcohol te gaan.
Neem bijvoorbeeld de 9 straatjes in Amsterdam. Perfect om een 'cappuccino tocht' te doen.
Idee 15: Markt
Struin samen over één van de vele markten in Nederland.
Er is altijd wat te doen op een markt en jullie kunnen samen op zoek gaan naar grappige antieke dingetjes.
Doe de uitdaging dat jullie voor elkaar het meest kitsche object kopen. En verras elkaar daarmee aan het einde van de date.
Over de markt gaan om inkopen te doen en later samen koken is ook een top plan.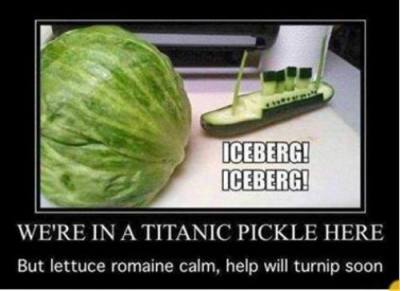 De markt is een prima plek om je thuisdate te beginnen.
Want je inkopen op een markt doen, waar je de meest verse ingrediënten kunt kopen (en als je goed bent in afdingen, voor de laagste prijs) verslaat elke supermarkt bij mijlen.
Tip 3: Waarom je altijd één date idee wil hebben waar je altijd op terug kan vallen
Dit is waarschijnlijk wat het vervelende stemmetje in je hoofd zegt.
Wanneer je beter wordt in daten dan kan het zomaar zijn dat je vaker op dezelfde plekken komt.
Jij begint de plek beter en beter te kennen.
Je ziet steeds hetzelfde personeel.
Je bestelt steeds hetzelfde drankje.
Na een tijdje zit je zelfs steeds op dezelfde stoel, omdat dit de beste plek is.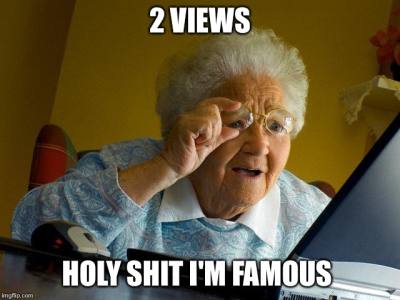 Nu ga je nadenken:
"Zullen mensen mij herkennen?"
"Wat zullen ze ervan vinden dat ik iedere week (of zelfs meerdere keren per week) met een andere date hierheen kom?"
"Heeft mijn date niet door dat ik hier vaker kom, dan dat ik mijn ouders bezoek?"
Laat me je vertellen dat dit onzin is. En je JUIST steeds naar dezelfde plek wil gaan op je eerste date.
Waarom?
Om zo min mogelijk variabelen te hebben.
De eerste date is namelijk al spannend genoeg.
Als je ook nog naar een nieuwe plek gaat, geef je jezelf veel te veel druk.
Naast dat je wil presteren voor je knappe date, moet je nu ook nog uitzoeken waar je bent en hoe het café 'werkt'.
Over presteren op je eerste date en tips die je moet weten voor je de deur uitgaat, vertel ik je straks meer over. Daarnaast geef ik je ook een hulpmiddel mee dat je gaat helpen op je eerste date.
Zorg daarom dat je eerste date zo standaard is, dat je belastingaangifte doen nog afwisselender is.
Dan kun je op de volgende dates lekker origineel te werk gaan en haar opnieuw van haar sokken blazen.
Idee 16: Massage
Zelf vind ik het heerlijk om een massage te geven.
(Krijgen ook wel, daar niet van)
Het is een spannende manier om dichter bij elkaar te komen.
En perfect voorspel.
Wanneer je het als thuisdate gebruikt:
Zet kaarsen neer. Pluspunten voor geurkaarsen.
Kies een lekkere massageolie uit.
Blinddoek haar.
Natuurlijk kunnen jullie ook samen naar een massagesalon of spa gaan. En daar verwend worden.
Vaak mag je elkaar ook wel even masseren en krijg je inside tips van de mensen daar.
Idee 17: Midgetgolf
Niemand die echt pro is in Midgetgolf, dus deze activiteit wordt altijd supergezellig.
Daarnaast zorgt het element van competitie altijd voor wat gezonde spanning tussen jullie.
Wil je next-level gaan met dit idee, kies dan voor glow-in-the-dark midgetgolf.
Een mooi overzicht met alle midgetgolfbanen van Nederland. Kun je zien of er één in de buurt is.
Idee 18: Musea
Je moet ervan houden, en zelf zou ik alleen naar hele specifieke tentoonstellingen gaan.
Maar gedurende het jaar zijn er overal in Nederland wel interessante exposities te vinden die jij en je date op de eerste afspraak leuk gaan vinden.
Een paar jaar geleden had je namelijk de James Bond tentoonstelling in Rotterdam.
Niet zo lang geleden waren er best wat Star Wars exposities door het land.
In Groningen was alles van Bob Marley te zien.
En zo noem ik maar wat op.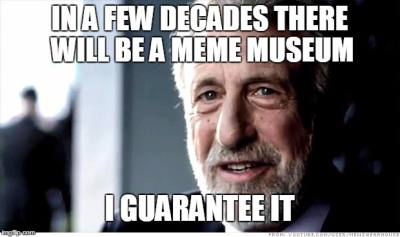 Bekijk bijvoorbeeld deze website om inspiratie op te doen. Er is vast iets interessants bij jou in de buurt.
Verder kan ik Body Worlds in Amsterdam ten zeerste aanraden. Bestel alleen wel tickets, want er staat vaak een enorme rij.
Denk daarnaast aan openluchtmusea, zoals in Arnhem of Enkhuizen. Dit is totaal niet wat je bij een museum verwacht (stoffig en saai), maar je wordt echt in de wereld getrokken die ze laten zien. Met name door de vele vrijwilligers die net doen alsof ze in die tijd leven.
Idee 19: Muurklimmen
Om twee redenen een perfecte eerste date idee:
Zij in strakke sportkleding
Zweet op haar voorhoofd door alle inspanning
Dus altijd een mooi uitzicht voor jou 😉
En volgens onderzoek handig voor de aantrekkingskracht door de verhoogde hartslag.
Ga trouwens naar De Bever in Den Haag, daar kun je tegen een ijswand opklimmen.
Voor een lijst met alle boulderhallen in Nederland klik je op de link.
Idee 20: Nieuwe stad ontdekken
Toerist in eigen land spelen is een perfecte eerste date activiteit.
Ga samen naar een stad die jullie allebei niet kennen.
Alles wat jullie nu samen meemaken is nieuw. En dat heeft zo zijn voordelen.
Huur bijvoorbeeld een fiets en ontdek de stad. Vind alle leuke cafés en plekjes.
Straks geef ik je nog een tip voor als je in een onbekende stad bent en toch het beste café wil vinden.
Tip 4: Wat je MOET begrijpen bij de eerste date
Dit is een grote misvatting.
Regelmatig lees je dat je groots wil uitpakken op je eerste date, zodat je aan haar laat zien dat je moeite doet en dat ze speciaal voor je is.
Niets mis met deze gedachte.
Echter de norm die onder de mensen leeft voor een eerste date is vooral laagdrempeligheid.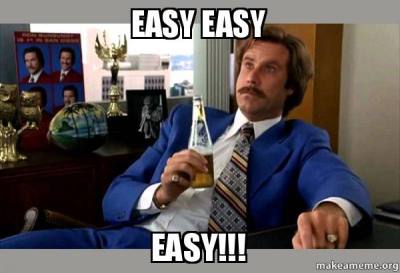 En dit geld net zo voor je date.
Vaak krijg je toch namelijk de vraag wat jullie gaan doen.
Kom je dan aan met het idee om te gaan indoor skydiven…
…Dan kun je ervan uitgaan dat het antwoord "Nee liever niet… Gewoon drankje in het centrum toch :)" wordt.
Kijk maar: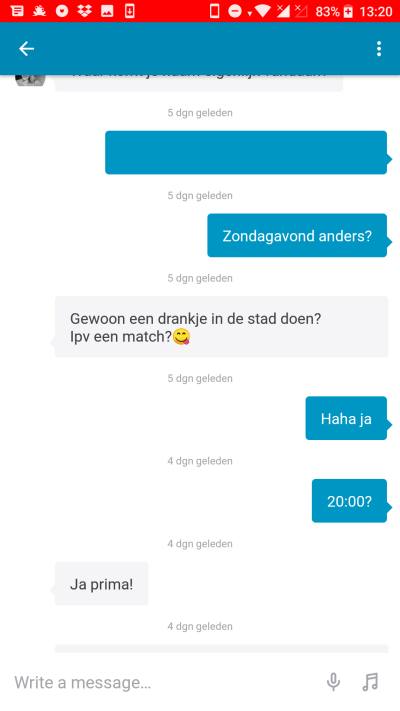 Door mijn openingszin, kwam het idee om een kickboks-workshop te gaan doen steeds terug.
Op het moment dit ik haar uitvroeg speelde dit natuurlijk nog steeds in haar hoofd.
Toch maar even checken of ik haar echt niet naar een workshop mee zou nemen dacht ze waarschijnlijk.
Dus in plaats van een compleet originele date met spanning en sensatie…
…Kies eenvoudig voor drankjes doen…
…Op een originele manier.
Dan blijft de drempel laag, maar verras je haar toch door je originaliteit.
En laagdrempeligheid zijn al deze eerste date ideeën op gebaseerd.
Idee 21: Park/boswandeling
Simpel.
Toch een perfect eerste date idee.
Zorg echter wel dat je een interessant park of bos neemt.
Je voortuin raad ik af.
Echter maak het 10x interessanter door deze wandeling in het midden van de nacht te doen.
Doe het zo laat mogelijk om niemand tegen te komen en enkel samen te zijn met de geluiden van de nacht.
Kies hiervoor ook een verlaten gebied, buiten de stad voor maximaal effect.
Idee 22: Originele date
Origineel zijn op je date is oh zo belangrijk.
Als het voor haar idee standaard is, dan gaat de hele date met jou als een trance voorbij.
De volgende dag zal ze weinig meer herinneren en schuift ze je zonder pardon aan de kant.
Eenvoudig op te lossen door origineel te zijn.
Leer hieronder hoe:
Idee 23: Picknicken
Pak een kleed, vul een mand met lekker eten en drinken (een wijntje mag niet ontbreken), zoek een leuk park in de buurt op, vind een plek bij boom, en ga samen picknicken.
Of doe van tevoren samen de boodschappen. Kies wat jullie lekker vinden en neem het mee naar het park.
Bonuspunten voor als je haar van tevoren zegt om verschillende producten mee te nemen, maar niet verteld waarom het is.
Zo heeft een coach van ons dit een keer gedaan. Ze gingen eerst een half uur wandelen, terwijl de eieren in haar rugzak aan het rinkelen waren. Uiteindelijk kwam toen de aap uit de mouw, dat ze gingen picknicken.
Ohja, waarom je een plek wil met een boom…
Hier kun jij relaxt tegenaan leunen, terwijl je je date een massage geeft.
Idee 24: Schaatsen
Perfect voor in de Winter.
Ga naar de schaatsbaan in de buurt en je hebt eigenlijk een hele date te pakken.
Drink samen warme chocolademelk of glühwein.
Trek jullie ijzers aan en spring op het ijs.
En sluit de eerste date af met een wandeling.
Probeer tijdens het schaatsen ook zeker hand in hand te schaatsen. Dit vergroot namelijk de kans dat jullie vallen aanzienlijk.
Dan kunnen jullie elkaar daarna weer overeind helpen 😉
Idee 25: Skaten
Ligt er geen ijs op de sloten, maar wil je toch ervaren hoe het is.
Ga dan samen skaten.
Waarschijnlijk heb je deze activiteit vroeger toen je klein was wel gedaan…
…Ontzettend leuk om het daarom nu weer eens te doen.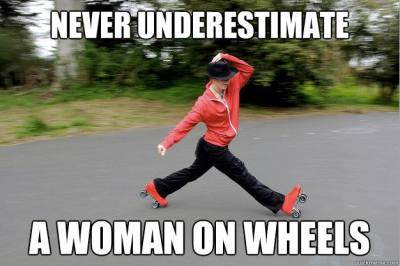 Huur skates bij een skatewinkel in de buurt. Iedere stad heeft wel een plek waar dat mogelijk is. Bijvoorbeeld de Skatedokter in Amsterdam en de Uithof in Den Haag.
Zoek een leuke route. Bijvoorbeeld net buiten de stad door het park of langs de duinen. Lekker glad asfalt is wel aan te raden.
Bescherming trouwens ook.
Helemaal leuk:
In de grote steden van Nederland is vaak een skateorganisatie die één avond in de week (vaak alleen in de zomer) een skatetocht organiseert.
Soms wel honderden mensen, met lichtjes en muziek rollen dan achter elkaar aan.
Tip 5: Gebruik dit als je in een stad bent waar je de leukste plekken NIET kent
Yelp.
Deze app wordt jouw help, wanneer je in een stad afspreekt, waar je de leukste cafés niet kent.
Of bijvoorbeeld in het buitenland.
Je kunt op allerlei kenmerken filteren waardoor je de perfecte plek binnen een paar minuten gevonden hebt.
Daarnaast kun je het café ook direct van binnen bekijken door de vele foto's die erbij staan.
Gebruik de GPS om gelijk een route uit te stippelen en er heen te gaan.
Idee 26: Strand
Zeker als je niet dicht bij het strand woont, is een uitje maken naar het strand altijd speciaal.
Maar nu ben ik niet de standaard strandganger die naar het strand gaat om in de zon te liggen.
Nee.
Ik neem een vlieger mee. En dan bedoel ik zo'n stuntvlieger met twee touwtjes. Zorg dat jij al wat geoefend hebt met sturen en leer het je date.
Maak zandkastelen, graaf elkaar in, ga in de branding staan, of probeer over de golven te springen terwijl je elkaar in het water duwt.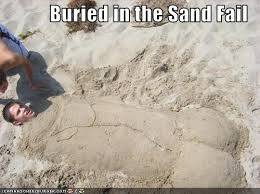 Doe tussendoor een drankje in één van de strandtenten, of neem zelf wat mee voor een zanderige picknick
Vergeet elkaar niet in te smeren.
Idee 27: Thuisdate
Heb je op je eerste date thuis afgesproken?
Maak dan niet de volgende grote fout:
Thuis afspreken.
Nee.
Als jullie bijvoorbeeld gaan koken, spreek dan af bij de supermarkt of op de markt.
Zorg dat je ook echt een 'date' hebt georganiseerd. Dat ze direct bij je in de kamer komt wil niet zeggen dat je niets meer hoeft te doen.
Ga bijvoorbeeld samen koken, cocktails maken, een boordspel spelen, noem maar op. Maar heb in ieder geval een betere activiteit dan filmkijken of theedrinken.
Daarnaast.
Zorg dat alles perfect in orde is:
Afwas weg
Het ruikt niet muf in je huis
Stof gezogen
Sfeerverlichting
Muziekje
Voor nog meer tips voor een geslaagde thuisdate, wil je het volgende artikel checken:
TIP: Alle tips voor een perfecte eerste date thuis
Idee 28: Wadlopen
Wadlopen is een activiteit die niet overal ter wereld mogelijk is.
Bij ons is het echter naast de deur.
Maar hoeveel Nederlanders hebben het nu daadwerkelijk gedaan?
Toerist in eigen land spelen, is daarnaast sowieso iets dat velen vergeten.
Toch zijn daar een hoop originele dates uit te halen.
Dus, in plaats van dat je alle toeristen in Amsterdam probeert te vermijden…
…probeer iets van ze te leren.
Idee 29: Zonsopgang/ondergang bekijken
Er zijn weinig dingen op de wereld zó magisch als een zonsondergang (Op de Harry Potter verhalen na… die zitten vól magie…)
Juist…, genoeg woe-woe.
Hoe dan ook, zonsopkomst of zonsondergang werkt eenvoudigweg als een tiet op je eerste date.
De zonsondergang is een geweldig setting om bijvoorbeeld iemand beter te leren kennen
Woon je niet in de buurt van het strand? Bekijk de zonsondergang vanaf het dak van een hoog gebouw.
Nachtpicknick? Neem je favoriete wijn mee, een kleed om op te zitten en let the show begin.
Hierbij geef ik je het beste eerste date idee
Je beste eerste date zet je niet neer door één van deze ideeën uit te kiezen.
Nee.
Je wil op je eerste date, en alle dates die met haar komen gaan, meerdere dingen doen.
Combineer dus twee, drie dingen van deze lijst en maak er een avontuur van.
Want onderzoek toont aan dat als je originele, nieuwe dingen doet, en verschillende dingen dit langer lijkt te duren.
En aantrekkingskracht bouwt zich op over de tijd. Dus wil je het laten lijken alsof zij veel tijd met je spendeert.
Dit doe je dus door meerdere dingen op een date te doen. Niet per se door de tijd langer te maken.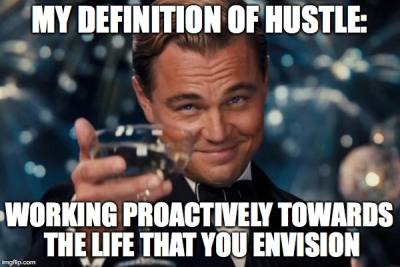 Goed.
Alle date ideeën gehad.
Aan inspiratie kan het niet meer liggen.
Nu wordt het tijd om te presteren, zodat ze verliefd op jou wordt tijdens de eerste date.
Om dat keer op keer te bereiken heb ik het gratis Transformatiepakket voor je gemaakt.
Boordevol tips hoe je je op date wil gedragen + zinnen en gesprekstechnieken die je op elk moment in kan zetten, zodat je eerste date niets anders is dan flirterig en spannend.
Krijg het hieronder met één klik op de knop.
Dan hoor ik graag hoe je eerste date is verlopen in de comments.
Van je bro,
Daan de Ram
Voor nog veel meer tips, bekijk ook eens deze artikelen:
Oh, en vergeet hieronder je gratis download niet ;)