Vandaag heb ik een cadeautje voor jullie. Het gratis rapport van Alex May over de 11 soorten orgasmes.
Wil je trouwens écht goed worden met Tinder en Whatsapp? Download dan eens mijn Gratis Tinder & Whatsapp Spiekbriefje met 25 geweldige tips om altijd die date te krijgen.
Wellicht denk jij, 11 soorten orgasmes? Zoveel? Ik ken er maar 2. Vaginaal en clitoraal. Nu da's niet zo raar. De meesten komen maar op 2.
Nu Alex May heeft een makkelijk te lezen rapport geschreven over de 11 soorten orgasmes en hoe je ze kan bereiken.
Hij is trouwens 26 en 27 februari 2016 weer in Nederland. De laatste keer was in mei dit jaar, en het wordt steeds moeilijker (lees duurder) om hem te pakken te krijgen. Wellicht is dit de laatste keer dat het me gaat lukken. Enfin lees eerst het rapport, vind je het niks dan weet je in ieder geval altijd wat meer. Vooral die ene techniek die je niet met de vingertoppen moet doen (mocht er eigenlijk niet in van Alex May, maar ik heb het gewoon erin gelaten). Dus lezen, want je doet het geheid fout met die vingertoppen. Je kan voor dit nu al beroemde seminar je plaats nu vast reserveren met een aanbetaling van slechts 97 euro. Totale kosten zijn slechts 497.- euro. 
Verder zijn er volgende week woensdag 14 en 21 oktober om 22:05 op NPO3 nog uitzendingen over de pickup community. Ik weet dat het een deel van het Dating Doctors team (Bart, Edin, Lucas, Mark en Pim) voor 2,5 dag gefilmd is bij de Datingtour in Poznan. Tim zijn seminar is gefilmd in Utrecht en wellicht hebben ze er nog meer van gemaakt. Nu het programma is 3Onderzoekt. Dat is in principe een programma wat misstanden aan de kaak stelt en slachtoffers een stem geeft. Volgens mij hebben ze nog nooit 2 uitzendingen gedaan, dus zijn er wellicht heel wat misstanden en slachtoffers te melden?
Toestemming beelden
De deelnemers op de datingtour die te zien zijn, hebben natuurlijk allemaal van te voren uitdrukkelijk toestemming gegeven voor het maken van de beelden. Niet dat 1 van jullie denkt dat als je op datingtour gaat of een workshop bij de Dating Doctors neemt, je automatisch kans loopt om gefilmd te worden voor de TV. Deze mensen wilden graag laten zien wat er voor hen mogelijk is. Ze hopen dat iemand anders het ziet. Wellicht krijgt hij dan ook het idee dan er wat aan te doen is. Wellicht ziet hij ook een datingtour als de mogelijkheid om zijn leven flink wat op te leuken met wat meer vrouwelijke aandacht.
Wat valt er te zien
Geen idee, of we helemaal finaal afgebrand worden door de EO (zoals met Sylvia Vogel in Hufterproof) of dat het allemaal wel meevalt. Er kan altijd flink geknipt en gemonteerd worden.
Ik kan zeggen dat het een hele mooie reis was. We zaten daar met 13 man in 1 huis en Poznan is gewoon een leuke stad.  Naast de vele mooie Youtube reviews, kregen we nog een onverwachte review binnen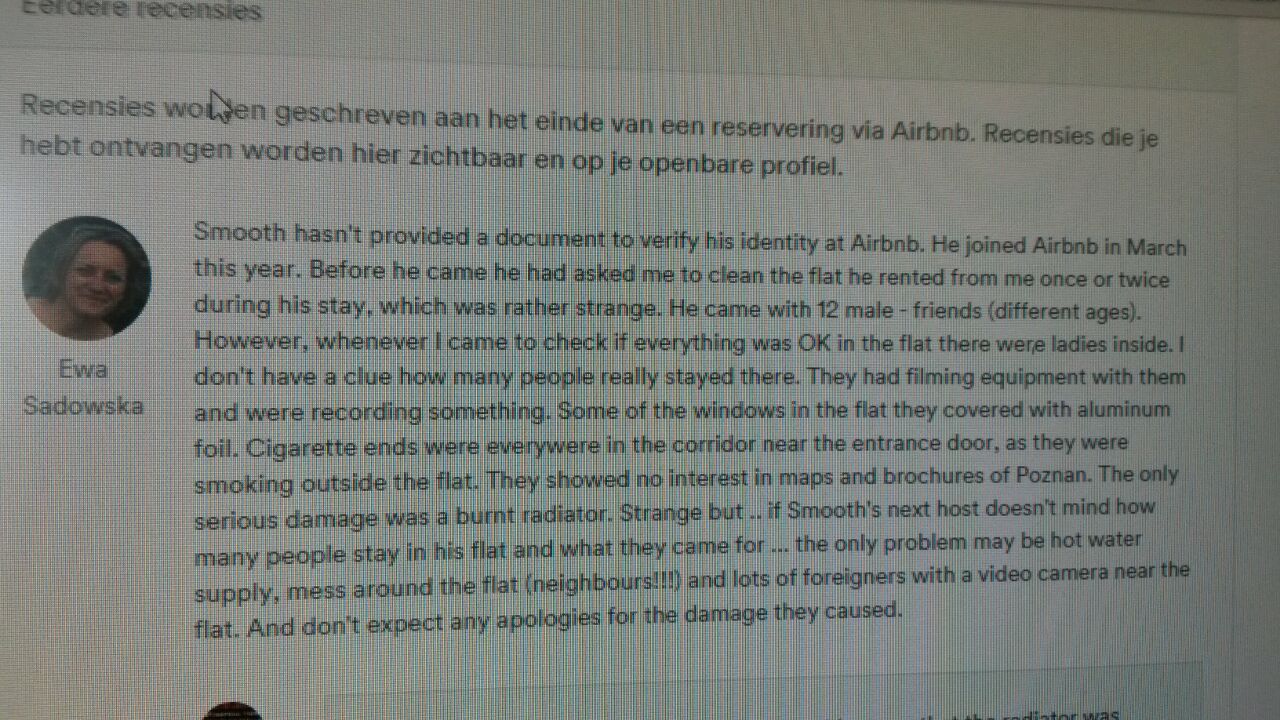 Ik vond het eigenlijk wel 1 van de beste reviews ever. Whenever I came….there were ladies inside….They showed no interest….
Datingtour Ervaringen Van De deelnemers
Nu we hadden iemand die 2 weken van te voren nog niet eens mensen – zowel man of vrouw – de weg durfde te vragen. Hij regelt toch maar eventjes voor zichzelf 3 dates en kan nu zeggen dat hij op 41-jarige leeftijd! zelf heeft ervaren hoe seks met een vrouw aanvoelt. Nou heeft hij bij lange niet het all time datingtourrecord qua leeftijd trouwens. Dat was iemand van 56 jaar. Zo zie je maar, je bent nooit te oud om wat te leren.
We hadden iemand die nog nooit een Same Night Lay had geregeld en nu wel. We hadden een deelnemer die de volgende ochtend 'na het gedaan te hebben' met ontbloot bovenlijf geïnterviewd werd door de EO presentatrice Anne-Mar Zwart terwijl de camera volop draaide. Nu Anne-Mar Zwart was volgens mij zenuwachtiger dan de deelnemer zelf. Wellicht kijkt ze daarom op onderstaande foto een beetje mistroostig….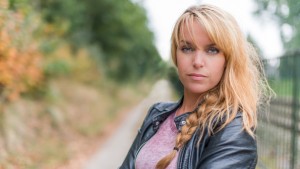 …. Ja, de deelnemer was een absolute baas in dat interview. We hadden huilende en dan weer blije deelnemers. Op de datingtour draaien we een intensief programma. Er is geen andere mogelijkheid. Zachte heelmeesters maken stinkende wonden. Echter Anne-Mar had ook wel momenten dat ze wat blijer was hoor. Soms geholpen door een kleine versnapering ;-).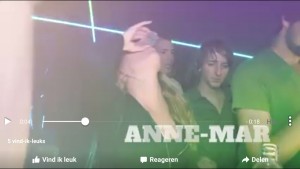 Enfin volgens mij heeft zij haar ogen uit gekeken. Ik hoop jij straks ook!
Epiloog
Wij maken er voor de uitzending volgende week woensdag met een stel deelnemers een reünie-avondje van, thuis bij 1 van de deelnemers. Natuurlijk kunnen we ook Uitzending Gemist kijken , alleen gelijk de uitzending is toch leuker. Vooral omdat ze maar liefst 2 uitzendingen gaan doen hierover, wat gaat dat worden? Zijn we echt zo interessant?
Ik weet dat ik mensen help, samen met vele collega's die echt hun uiterste best doen om jullie te helpen. Toch de werkelijke helden zijn jullie de mensen die training hebben genomen of nog verder gaan met trainen, of gaan trainen! Ik hoop maar dat EO een eerbetoon heeft gemaakt aan deze echte helden.
En anders weten jij en ik het werkelijke verhaal….Ik geef het je maar te doen, daar te staan in een vreemd land, terwijl je 2 weken geleden nog niet eens mensen op straat de weg durft te vragen. Alle respect omdat alleen maar die datingtour al te boeken.
Nieuwsgierig geworden, dan kijken….volgende week woensdag 14 oktober en een week later woensdag 21 oktober om 22:05 op NPO3.
En ondertussen wens ik je veel lees en leerplezier met het gratis rapport van Alex May.
Voor nog veel meer tips, bekijk ook eens deze artikelen:
Oh, en vergeet hieronder je gratis download niet ;)