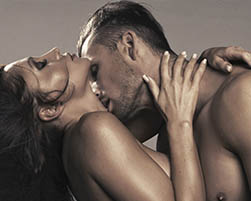 Hoe Moet Je Een Vrouw Zoenen
De meeste mannen die ik train heb ik geen enkel idee hoe ze een vrouw moeten zoenen, en even belangrijk – op welk moment ze een vrouw kunnen zoenen.
Wil je trouwens écht goed worden met Tinder en Whatsapp? Download dan eens mijn Gratis Tinder & Whatsapp Spiekbriefje met 25 geweldige tips om altijd die date te krijgen.
Als je dit artikel helemaal leest, dan weet je aan het eind.
Hoe Je Een Vrouw Moet Zoenen
Mijn Smooth 😉 ZOENTEST – zo weet je of ze er klaar voor is om jullie gezamenlijke zoensessie te beginnen
Ik heb deze post speciaal geschreven omdat ik elke week weer de pijn en frustratie meemaak van mannen die geen vrouwen in hun leven hebben. Mannen die gewoon geen idee hebben wat ze moeten doen op dat supercruciale moment
Enkele vragen…..
Heb je ooit gedacht over of je haar zou kunnen zoenen op je date? En verder hoe je haar zou gaan zoenen? Dat allemaal voordat je met haar op date ging? Je vast ook over meer nagedacht? Wellicht zelfs over hoe je met haar in bed zou belanden….en wellicht zelfs dat je hoopte dat het goed zou gaan.
Heel goed, heel goed. Fantaseren of je zelf al dingen voorstellen is sowieso niet slecht. Visualiseren heet dat met een duur word.
 Alleen je was waarschijnlijk ook aan het denken over of je wel je zenuwen in bedwang zou kunnen houden, en of je wel moed genoeg zou hebben om haar te zoenen. Daarbij zal je ook wel gedacht hebben, en zou ze dan wel met me terug willen zoenen?
En wellicht nog de meest slechte gedachte. Als je haar dan wilt zoenen, dat ze je dan verbaasd, verontwaardigd, of zelfs erger nog Met Afschuw aankijkt? Of dat ze een 'je jouw gevoelens sparende' wang geeft om te zoenen?
Meestal voelt die eerste zoen als iets heel engs. Net alsof het een enorm RISICO is om je neus naar voren te steken en te gaan voor die superbelangrijke zoen….
Analyseren of actie ondernemen
En laten we wel wel zijn, dat is het ook wel een beetje, alleen het is geen kwestie van leven en dood. Als ze je zoen afwijst, wil niet gelijk zeggen dat je dan geen enkele kans meer maakt. En zelfs als je geen enkele kans meer maakt, is actie nog altijd beter dan geen actie. Echt wees blijer als je actie onderneemt en afgewezen wordt, als dat je geen actie onderneemt en er niks gebeurd. Denk niet dat je later nog een kans krijgt. Die kans is namelijk al geweest. Dat zie ik namelijk ook bij de mensen die ik coach. Je moet gaan voor die zoen en zo niet – bij niet doen heb je meestal meer verkloot dan gewonnen!
Is jouw patroon in plaats van actie tot nu toe om dingen te veel te analyseren en kapot te denken? Zit je meer na te denken tijdens de date wat dit zou kunnen betekenen, of wat dat zou kunnen betekenen van alles wat zij doet? Het enige wat je meestal doet is jezelf meer nerveus te maken. Zo nerveus dat je superdom lijkt als je 1-maal je zenuwen wel onder controle kon krijgen? Omdat jij zo nerveus bent, breng je dat op haar over terwijl een zoen juist iets superleuks kan zijn.
Ook kan je doordat je zo nerveus bent, dingen uit gaan stellen wat uiteindelijk lijkt dat je niet eens voor de zoen gaat, wat weer leidt tot helemaal niks. Het enige waar het toe leidt is dat je na de date spijt als haren op je hoofd hebt, en het nog wellicht probeert met een mailtje waarin je nu wel je gevoelens kan verwoorden nog meer alles kapot maakt.
Het grappige is nu dat zoenen juist het effect heeft wat jij wilt. Het heeft een kalmerend effect doordat het hormoon Ocytocine wordt losgelaten in je brein.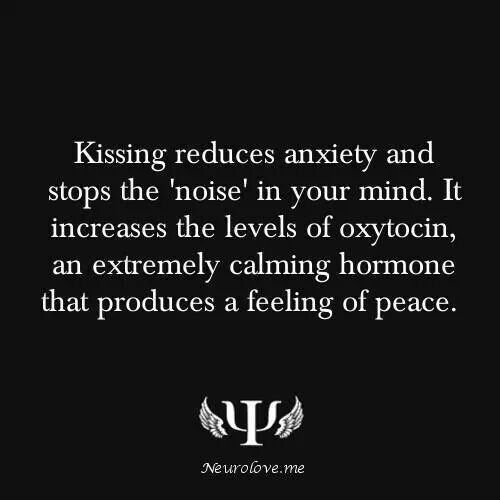 Oorzaken waarom je niet de trekker kan overhalen
Want je moet het ijzer smeden als het heet is. Als je gevoelens had, ga je dat niet onpersoonlijk over de mail neerzetten. Het is het gedrag van een watje, niet van een man. Het kan echter wel begrijpelijk zijn als je door of 1 andere reden altijd al een watje geweest bent. Je bent bijvoorbeeld opgegroeid zonder aanwezige vader of vaderfiguur. Dat kan fysiek zijn of emotioneel.
Vaders zijn vermaard om hun grove 'onvoorzichtigheid' met kinderen. Ze gooien ze hoog in de lucht, ze zien minder snel gevaar voor hun kinderen als moeders. Dit zorgt ervoor dat kinderen eerder op hun bek gaan, zich pijn, en leren risico's te aanvaarden en te ondergaan.
Op het moment dat je bijvoorbeeld geen vader of vaderfiguur hebt gehad, heb je dus vaak minder geleerd wat risico nemen inhoudt. Ook heb je waarschijnlijk minder ervaren hoe een man überhaupt met een vrouw omgaat. Als je dan bijna alleen maar juffen op de lagere school hebt gehad, heb je gewoon geen duidelijke voorbeelden gehad als man. Dat kan allemaal zorgen dat je gewoon moeilijker 'de trekker kan overhalen' bij het nemen van een risico, dus ook bij het 'gaan voor de zoen'.
Kennis over zoenen kan helpen
Echter een ding die je zou kunnen helpen is in ieder geval gewoon de simpele kennis hoe je voor een zoen moet gaan.
Daarvoor heb ik ook een simpele test zodat je zeker weet dat ze klaar is voor jullie gezoen 😉
Nou is dat niet handig?
Weten hoe je een vrouw moet zoenen en ook wanneer je dat moet doen is gewoon heel belangrijk.
Daarnaast krijg je ook nog de tips hoe je zo moet zoenen dat een vrouw altijd meer wilt van degene van wie ze dat krijgt. En dat ben jij!
Getest door een aantal cliënten van het jaarprogramma vrouwen versieren krijg ik terug dat ze meer vertrouwen hebben met escaleren op dates. Daardoor kunnen ze ook meer comfort opbouwen met hun dates omdat ze nu gewoon weten hoe zoenen nu precies moet.
Echter voordat we dat gaan doen, ga eerst de beste kusvideo ooit zien.
Let op! De zoenactie begint gelijk. Riemen vast en gaan, want dit is ECHT HEET!
https://www.youtube.com/watch?v=U8keIntXjsw
Natuurlijk kun je ook wel wat leren van slecht zoenen.
Hier een voorbeeldje – en gelukkig zijn zij er gelukkig mee
En 10 soorten manieren van slecht zoenen….
Het lijkt onmogelijk dat mensen dit werkelijk doen, alleen gezien de commentaren van de vrouwen beneden, is dit toch blijkbaar wat er ongeveer gebeurd. Niet goed, niet goed.
Laten we daarom snel verder gaan met "Hoe moet je een vrouw zoenen"
SmoothDoc's  Zoen TEST & De Te Volgen Stappen Tot De Zoen 
Ik vertel altijd dat je op je gevoel moet vertrouwen. Denk jij eraan om haar te zoenen. Dan is dat precies het moment om haar te zoenen. Het is meer een kwestie van het vertrouwen van je gevoel en instinct dan het leren van een kunstje. Toch in de 2e stap geef ik je test zodat je zeker kan weten dat je haar kan zoenen.
De dubbele test. Streel haar hand, heel lichtjes en langzaam en niet als een machine (dus niet heen en weer op dezelfde plek een beetje ongeregeld overal over haar vingers) als ze haar hand niet wegtrekt, vindt ze je in ieder geval leuk. Nu zeg je dat ze lekker ruikt. Leun gelijk (langzaam op je gemak) naar voren om aan haar nek te ruiken. Deinst ze niet terug? Blijf ze rustig zitten. Zeker klaar voor de kus. Haalt ze haar hand weg? Nog niet klaar voor de zoen. Gaat ze iets terug met haar nek als je naar voren leunt? Vertel haar, "Kom hier gekkie." Ik ruik alleen even aan je nek. Dit is een bevel gevolgd door iets wat luchtige en plagerige opmerking.
Als je nu nog steeds twijfelt. Wat je meestal wel doet. Wees dan gewoon stil en kijk haar diep in haar ogen aan (terwijl je denkt aan het zoenen met haar). Kijkt ze terug en glimlacht ze naar je. Zeker zoenen gewoon.
Wat je nu doet is dat jij jouw hoofd een beetje kantelt. Maakt niet uit naar welke kant. Onthoud je bent al dicht bij haar omdat je haar nek wilde ruiken, en je kijkt in haar ogen. Dan ga naar haar mond kijken en weer naar haar ogen. Op dit moment zou het zomaar kunnen dat ze haar hoofd ook kantelt naar de andere kant.Langzaam of snel zullen jullie gezichten dichterbij komen en jullie lippen zullen elkaar aanraken.En ja, je bent aan het zoenen (als je dat nog niet wist)Je gaat er dus NU nog niet vol tegenaan, waarbij je gelijk je tong achter in haar nek steekt. Gewoon niet doen maatje. In het speciaal als het je eerste zoen met haar is. Kussen kun je net zoals vrouwen versieren vergelijken met een haardvuur. Je begint met de kleine houtjes, waarna je pas later de hele grote blokken erop gooit.
 Nu wanneer jullie elkaars lippen voor de eerste keer beroeren, stop even, verlaat haar lippen even voor een halve centimeter, en geniet. Onthoud dat je lippen volledig vrij moeten zijn van spanning. Je bent toch aan het genieten, ze vindt je echt wel leuk. Dus waarom nou nog gespannen zijn. Bekijk nog eens die eerste video waarin volgens mij de beste filmzoen (in ieder geval voor mij meest opwindende filmzoen) ter wereld gegeven wordt. Als je erop let merk je op dat die vrouwen tongen met een volledig losse en ontspannen tong. Ga dit ook doen. Je zult merken dat het zoenen zoveel leuker en prettiger wordt.
Daarna kus haar nog maar eens een keer, alleen houdt je lippen nu wat langer op die van haar lippen. Zorg er nu ook voor dat je huid van de lippen aanraakt.
 Vergeet ook je handen niet. Je kan zachtjes haar haar uit haar gezicht weghalen, haar wang strelen, en natuurlijk ook dat lekkere kontje van haar kneden en dat kan je allemaal doen terwijl je haar lekker aan het zoenen bent.
Daarna is het superfijn om haar ook te gaan tongen, alleen doe dat ook weer rustig en ontspannen.
  Als na een tijdje ze echt met passie je begint te zoenen, dan kun je ook zeker het volgende doen.  a) Ga met je hand naar waar net het haar achter haar nek begint te groeien. De palm van je hand is naar haar hoofd toe.
b) Nu pak een flinke pluk haar beet, precies bij de wortel. Breng je hand nu in een halve cirkel  beweging naar beneden, terwijl je hand tegen haar hoofd blijft liggen. Op die manier kun je flink  trekken, terwijl het haar helemaal geen pijn doet.
Nou wellicht wist je deze nog niet, alleen dat is echt enorm opwindend voor een vrouw. Check ook even de reactie van de dame in video van Sekscoach Alex May. Onmiskenbaar dat ze het erg lekker vindt en dat voor een volle zaal op het seminar van sekscoach Alex May.
10.  Nog een leuke voor de gevorderden. Het is ook leuk om een drankje met ijs te nemen, en zij een warme chocomel, of koffie/thee of andersom en elkaar dan te kussen. De verschillend koud en warmte sensaties maken het extra lekker. Hetzelfde kan je trouwens ook doen als ze jou pijpt. Enfin, dat is een ander onderwerp…
Hoelang ga je zoenen?
Als dit je eerste kus is, laat het dan niet langer duren dan een minuut. Ga elkaar niet een half uur zitten aflebberen, in het speciaal wanneer je dat En Plein Public zit te doen. Laat dat over aan de pubers. Jij bent een volwassen man met klasse. Als echt in een relatie zit ga je gewoon maar lekker bij elkaar thuis op de bank lang zoenen. Nog beter voor je stresslevel ook. Zie maar deze grafiek.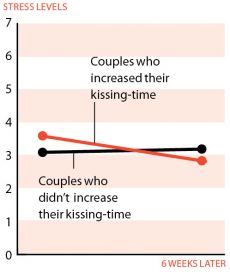 Meestal is zelfs zoenen aan het einde van een date zonder enige mogelijkheid tot verder escaleren niet zo'n slimme zet. Ze weet dat na het zoenen toch iets anders komt. Waardoor ze soms een 2e date gaat afzeggen.
Of je gaat tot het gaatje, of je weerhoudt je van zoenen tot jullie alleen samen is meestal een veel beter gameplan.
Wanneer Je Wel Je Zoen Uitstelt
Stel je bent op een date. Nu zeg je; "Ik vind het een beetje saai worden hier. Laten we naar jou/mijn huis gaan. Ik zal je zeggen waarom ik dat zeg. Ik heb zin om je te zoenen, alleen dan wil ik niet hier doen. Ik hou van privacy. Hou jij ook van privacy?"
Nu iedereen houdt van privacy, en anders is ze totaal exhibitionistisch. Nou als je het ook leuk vindt, neem haar dan gelijk onder of op de tafel zou ik zeggen. 😉
In ieder geval het doel van elke zoen is dat meer van dat lekkere spulletje (jouw zoenen) wilt. Dus jij bent altijd degene die als eerste met zoenen ophoudt, okay? Dit laat zien dat je niet uitgehongerd bent, weet wat je aan het doen bent, en het laat zien dat je een man bent die vol zelfvertrouwen zit. Zoals je weet, houden vrouwen van zekerheid en veiligheid. En dus ook van een man die dat uitstraalt.
Gaan Voor De Zoen = Extra Zelfvertrouwen
In ieder geval elke keer wanneer jij je wat zenuwachtig voelt en je gaat voor die zoen, begrijp dat elke keer dat je ervoor gaat, je extra punten krijgt voor je zelfvertrouwen. Zelfs al gaat het fout, dat is altijd nog beter dan dat je überhaupt niet de trekker overhaalt. Je leert jezelf zo namelijk om de trekker niet over te halen. Nu nooit geschoten is altijd mis, dat lijkt me wel duidelijk.
Heb je nog vragen of opmerkingen over deze blog van mij hoe je een vrouw moet zoenen, of mijn SmoothDoc zoentest method, zodat je weet of je haar kan zoenen?
Laat me ff weten, en anders zoen haar lekker en denk zeker niet aan mij gedurende dat je haar aan het zoenen bent. Geniet er gewoon van. Doet zij dan ook.
Groet,
Pim aka SmoothDoc
Voor nog veel meer tips, bekijk ook eens deze artikelen:
Oh, en vergeet hieronder je gratis download niet ;)