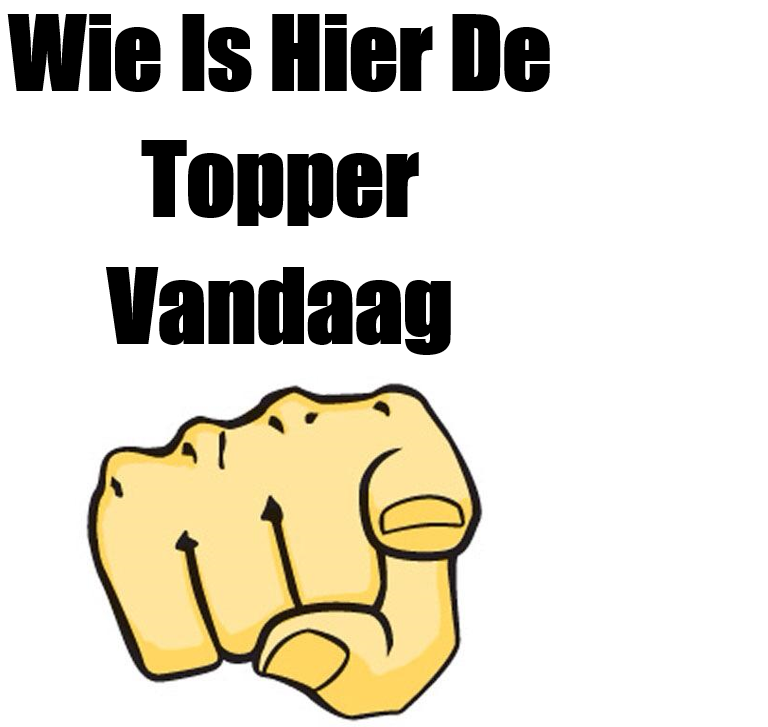 De definitie van zelfvertrouwen is het geloof in eigen mogelijkheden. Letterlijk, vertrouwen in jezelf. Vertrouwen in wie je bent, je emoties, je uiterlijk,  wat je kan, maar zeker ook wat je niet kan. Je bent zeg maar goed zo, zoals je bent. Wil niet zeggen dat jij jezelf niet kan verbeteren, alleen je aanvaardt het toch maar.
Wil je trouwens écht goed worden met Tinder en Whatsapp? Download dan eens mijn Gratis Tinder & Whatsapp Spiekbriefje met 25 geweldige tips om altijd die date te krijgen.
Nu zijn allerlei mannen die vrouwen willen versieren en zeker ook vrouwen die mannen willen versieren zijn vaak op zoek naar de HOLY GRAIL van Pickup en dat is toch min of meer zelfvertrouwen.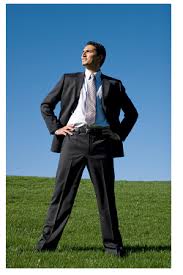 Mannen willen zelfvertrouwen om op vrouwen af te stappen. Mannen willen eigenlijk gewoon helemaal het vertrouwen om ZELF om vrouwen af te kunnen stappen zonder gedraal, aarzelen, angst of wat dan ook. Ze willen in in ieder geval leren om te vertrouwen op zichzelf. Vrouwen zouden eigenlijk wel het zelfvertrouwen willen dat ook te kunnen. Jammer, genoeg zijn vrouwen nog veel onzekerder over zichzelf. Laat ik het vanaf nu gewoon maar over mensen of 'wij' hebben.
Waarom willen 'wij' dat zelfvertrouwen?
Er wordt algemeen gedacht dat generiek zelfvertrouwen allerlei positieve effecten heeft. Mensen met meer zelfvertrouwen zouden succesvoller zijn op tal van terreinen. Maar het gekke is dat hier nog in onderzoek geen serieuze bewijzen voor te vinden zijn.
WTF?
Ja, echt een onderzoek (Roy Baumeister 2003) laat heel weinig over van een rechtstreeks oorzakelijk verband tussen zelfvertrouwen en succes met geld, met vrouwen, en ook bijvoorbeeld het stoppen met verslavingen.
Wel zijn mensen met meer zelfvertrouwen gemiddeld gelukkiger, nemen ze vaker het initiatief en houden ze langer vol bij tegenslag.
Echter zonder werkelijke kennis leidt het niet tot meer succes. Met zelfvertrouwen is het meer bluf dan wijsheid. De bluf leidt wel tot een leercurve, aangezien je toch enigszins kennis opdoet als je het maar doet.
Met andere woorden het zelfvertrouwen leidt in eerste instantie gewoon tot vaak zelfs meer falen, alleen met zelfvertrouwen doet het je gewoon niet zo veel. Wat uiteindelijk weer tot meer succes leidt.
Waarom kan zelfvertrouwen wel tot meer succes leiden?
Nou heel simpel. Als je meer succes wilt hebben, verdubbel dan het aantal fouten wat je maakt. Het zelfvertrouwen wat je zo graag wilt, krijg je door dingen te doen waar je niet zoveel zelfvertrouwen bij ervaart. Elke keer als je iets doet waardoor jij jezelf uit je comfortzone begeeft, krijg je als het ware extra punten of je zelfvertrouwen conto bijgeschreven.
Echter als je zoveel zelfvertrouwen hebt dat je denkt dat je het "Toch wel goed doet" dan gaat het natuurlijk toch nog mis. Dus het effect wordt eigenlijk een beetje opgeheven. Iemand met weinig zelfvertrouwen zal extra studeren, extra zijn best doen omdat hij of zij onzeker is over zijn prestaties. Hij of zij zal ook eerder luisteren naar de input van anderen.  Daardoor zal de prestatie weer toenemen. Echter het "Where noone has gone before", avonturen, leiding nemen en meer van dat soort zaken zie je bij dat soort mensen vaker niet dan wel. Het zijn meer volgers, die richting nodig hebben van iemand die het zelfvertrouwen heeft om beslissingen te nemen. Als deze mensen zichzelf dus in een frustrerende situatie bevinden, zie je vaak dat ze daar op 1 of andere manier comfortabel in gaan voelen.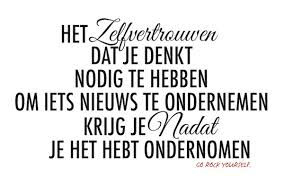 Ik zie dat namelijk ook bij mannen die weinig vrouwen in hun leven hebben. Ze houden zich bezig met heel veel werk of zijn intensief bezig met een hobby. Daardoor hebben ze eigenlijk geen tijd voor vrouwen en ook geen tijd om erover te denken. Alleen als je lichaam elke dag weer testosteron blijft pompen, zijn je hersenen op een gegeven moment het echt wel goed zat. Mensen zijn gemaakt om liefde te ervaren en te voelen. We zijn ook groepsmensen. Dat gaan ontkennen is een waarlijk hopeloze missie die niets anders dan ongeluk en ontevredenheid brengt.
Het beste is eigenlijk een team van mensen, wat ook weer uit allerlei onderzoeken blijkt. Een durfal met zelfvertrouwen en iemand die alles eerst absoluut graag wil onderzoeken. Een team wat elkaar stimuleert en motiveert om het beste uit elkaar te halen. Wat het is wel dat je dingen moet doen om zelfvertrouwen te ontwikkelen. Het is wel zo als het heel lang fout blijft gaan, dat je wel een flink bord voor je kop moet hebben om dan toch niet je kopje op een gegeven moment te laten hangen.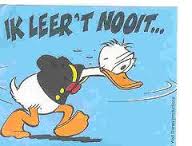 Daarom is het handig een team te hebben. Een team wat je wijst op de vorderingen die je al wel hebt gemaakt. Als je nooit een vrouw hebt durven aanspreken bijvoorbeeld, is het vrouwen aanspreken op zich al een enorme stap voorwaarts. Dat het dan nog niet echt lukt, ach dat kan. Lukt mij ook wel eens niet hoor. Zelfvertrouwen ontwikkelt zich dus doordat je dingen gaat doen.
Radicaal Eerlijk Zijn
Een ander punt waar we ook aandacht aan besteden in ons boek Zelfvertrouwen met Vrouwen is dat je moet leren te stoppen met jezelf beter voordoen en soms zelfs te liegen. Het zijn korte termijn winsten, alleen voor meer zelfvertrouwen kun je beter de waarheid gaan vertellen.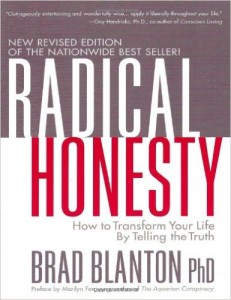 Makkelijker gezegd dan gedaan. We zijn min of meer verslaafd aan liegen. Alleen liegen zorgt uiteindelijk voor de meeste stress in ons leven. Liegen levert een soort zelfgebouwde gevangenis op, waar je gelukkig weer uit kan ontsnappen door middel van Eerlijkheid. Gelukkig is er hulp beschikbaar in de vorm van een boek. Radical Honesty is het boek wat je daarover meer zou kunnen vertellen. Het zou je zeker kunnen helpen met het starten van het praktiseren van radicale eerlijkheid.
Dingen vermijden is ook gelijk de grootste oorzaak waardoor zelfvertrouwen afneemt. Als je nadenkt is liegen eigenlijk ook een soort vermijden.
Zelfvertrouwen en leeftijd
Een ander onderzoek waarin bijna 2000 mensen werden gevolgd laat zien dat zelfvertrouwen ook een vast verloopt kent in een gemiddeld mensenleven. Ons zelfrespect neemt vanaf de puberteit steeds verder toe tot onze vijftigste levensjaar. Daarna neemt ons zelfvertrouwen weer gestaag af. Daar hoeven we niks voor te doen, gaat gewoon vanzelf. Het zou kunnen dat je als je jonger bent nog niet met zoveel dingen in aanraking bent gekomen. Als je ouder bent zou je ook niet zoveel nieuwe dingen meer kunnen doen, wat er toe leidt dat je zelfvertrouwen weer wat afneemt.
De commercie en zelfvertrouwen
Nu bestaat er allerlei producten op het gebied van zelfvertrouwen. Vaak om het  zelfvertrouwen te vergroten. Audioprogramma's, die je beloven dat je hierna toch echt een absolute leider wordt vol zelfvertrouwen in plaats van die bange muis, video's, boeken, het houdt niet op.
Echter alleen SPECIFIEK ZELFVERTROUWEN laat positieve effecten zien.
Wat is specifiek Zelfvertrouwen?
Specifiek zelfvertrouwen is kennis van je eigen vaardigheden op een bepaald terrein. Dat kunnen ook juist de dingen zijn waarvan je weet dat jij jezelf daarin nog veel te hebt ontwikkelen.
Echter als je gelooft dat je een bepaald beroep zou moeten kunnen, dan kies je ook eerder voor dat beroep. Als je gelooft dat je een bepaald niveau van scholing aan zou moeten kunnen, kies je ook eerder voor dat soort scholing.
Is heel je familie nog nooit verder gekomen dan MAVO, dan zal je niet zo snel op het Gymnasium terecht komen aangezien je het vertrouwen niet hebt dat jij dat ook kan.
Bij mij gingen mijn broer, mijn zus en ik allemaal naar het VWO. Daarom dacht ik automatisch dat ik dat ook kan. Heel onze familie is slecht in wiskunde. Daarom was ik daar als het ware automatisch ook slecht in. Terwijl op het HBO toch bleek dat ik er moeite mee had, alleen dat ik Wiskunde A niveau toch best wel aankon. Wat je gelooft ga je ook zijn.
Roger Bannister
We is Roger Bannister nou weer en waarom voer ik hem opeens op in dit stuk over zelfvertrouwen?
Roger Bannister was een loper. Nu ben ik zelf een redelijk goede loper geweest, en ik loop nu al zo'n 30 jaar. Daarom kende ik het verhaal al voordat ik de versierbusiness inging en daardoor met zelfontwikkeling aanraking kwam.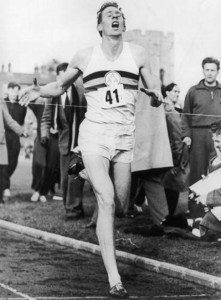 Wellicht ken je het verhaal, wellicht ken je het nog niet. Wetenschappers hadden bepaald dat het voor een mens onmogelijk was om onder de 4 minuten grens voor een mijl (1609 meter) te komen. Ik liep op mijn 16e jaar 4.21 alleen dat was over een afstand die nog 109 meter korter was. Als jij nu de 1.500 meter in 6 minuten loopt, kan ik al zeggen dat je al een redelijke conditie hebt. Met andere woorden 1602 meter in 4 minuten is inderdaad heel erg snel. Het is dus 1 rondje van 400 meter in 60 seconden en dat 4 x. Nu probeer jij maar eens 1 rondje in 60 seconden te lopen.
Enfin volgens wetenschappers was het dus onmogelijk om onder de 4 minuten te lopen.
Nu geloofde Roger dat het wel mogelijk was. Roger had zijn hele leven al gerend omdat hij het leuker vond dan wandelen. Op zijn 16e vlak na de oorlog begon hij daadwerkelijk te oefenen. In 1947 liep hij zijn eerste wedstrijd over een mijl in 4.30.
En hij liep op 6 juni 1954 als allereerste in de wereld een mijl binnen de 4 minuten, om precies te zijn in 3.59,4.

Wil je meer over Roger en zijn ontwikkeling als renner weten dan kan je hier veel over hem vinden. http://www.encyclopedia.com/topic/Roger_Bannister.aspx
Wat Roger Bannister gedaan had is buitengewoon echter in het hele geheel niet het meest opvallende. Datzelfde jaar in 1954, braken er nog 37 lopers door de 4 minuten grens. Het was het geloof in "dat het mogelijk was" om door de 4 minuten te breken dat al die renners het zelfvertrouwen gaf om harder te gaan.
Het huidige wereldrecord staat trouwens al sinds 1999 op naam van Hicham El Guerrouj in 3.43.13. Waarschijnlijk gaat dat ook nooit gebroken worden, gezien dat dit record waarschijnlijk met doping is gelopen….NOT.
Overtuigingen zijn nooit helemaal absoluut waar. Alleen ze zijn wel absoluut waar voor degenen die in deze overtuigingen gelooft.  Echter het is hartstikke moeilijk om iets waarin je heilig gelooft al brengt het je logisch gezien ongeluk achter je te laten. Als je tegen jezelf zegt: "Ja, ik heb geen zelfvertrouwen, zo ben ik nu 1-maal. Dan wordt het natuurlijk nooit niks.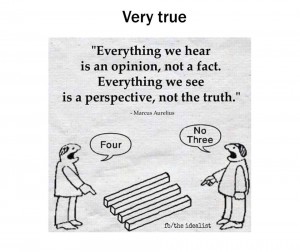 Daarom nodig ik je uit op 1 van de opdrachten te maken uit het Boek Uitgaan van Jezelf.
Nieuwe Overtuigingen Leren Aanvaarden
Opdracht: Welke regen is er in je leven?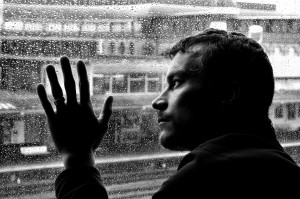 Leg het boek even naast je neer, en pak een stuk papier en iets om te schrijven. Denk even 2 minuten na, en begin dan te schrijven. Wat houd je tegen – welke regen is er in je leven? Als je stopt (je weet even niet meer wat je moet schrijven), denk je weer 2 minuten na. Of lees weer even het boek. Op een gegeven moment weet je nu echt niks meer te schrijven. Als het niet meteen lukt, slaap er eens een nachtje over. Voor mijn part leg je jouw papier of notitieblok samen met je pen onder je hoofdkussen. Zet al op het papier – Valse overtuiging:
Als je wat opgeschreven hebt, kijk nu wat er staat. Neem het in goed in je op. Al wat er staat, weerhoud jou dus om je doel te bereiken.
En alles wat er staat is een geloof, en komt van jou. Het is niet de realiteit. Het is jouw perceptie van de realiteit. Dat is soms nog al moeilijk te geloven, dus we gaan er ook iets mee doen. En wel op de manier die voor de meeste mannen favoriet is. Dat is namelijk de rationele manier. Toch komt er veel gevoel bij kijken. Hoe? Laten we eens gaan doen. Pen en papier nog bij de hand? Ja? Daar gaan we dan…..
Volg deze simpele stappen precies op.
Stap 1: schrijf op de overtuiging die je het meest in de weg staat.
Stap 2: schrijf op als een percentage hoe veel waarheid dat voor jou VOELT En schrijf ook het percentage op hoe veel waarheid het is in werkelijkheid. Stap 3: beantwoord nu de volgende vragen over bovenstaande overtuiging:
Wanneer voelt het voor jou het meest als de waarheid? Wanneer voelt het voor jou het minst als de waarheid?
Welk daadwerkelijk bewijs of bewijzen heb je voor deze negatieve overtuiging?
Welk daadwerkelijk bewijs of bewijzen heb je die deze negatieve overtuiging tegen- spreken?
Wat zijn de voordelen voor jou om deze negatieve overtuiging te behouden? Wat zijn de nadelen voor jou om deze negatieve overtuiging te behouden?
Wat zijn de mogelijke denkfouten die opgesloten zitten in die negatieve overtuiging?
Stab 4: Vraag jezelf af hoe veel waarheid de negatieve overtuiging nog heeft voor je? Kun je er een percentage aanhangen?
Stab 5: Schrijf eens een nieuwe overtuiging op die meer behulpzaam voor je kan zijn Stab 6: Beantwoord de volgende vragen met in je gedachten deze nieuwe overtuiging: Hoe waar voelt het? (schrijf weer een percentage op)
Hoe waar is het werkelijk?
Wanneer voelt het gevoelsmatig het minst als waar? Wanneer voelt het gevoelsmatig het meest als waar?
Welk daadwerkelijk bewijs of bewijzen heb je voor deze positieve overtuiging?
Welk daadwerkelijk bewijs of bewijzen heb je die deze positieve overtuiging tegen- spreken?
Wat zijn de voordelen voor jou om deze positieve overtuiging te behouden? Wat zijn de nadelen voor jou om deze positieve overtuiging te behouden?
Hoe waar voelt het nu?
Dit zou je kunnen helpen om echt je ongewilde overtuigingen te ontmantelen. Het zou je kunnen helpen om jouw stekker weer in het stopcontact van de realiteit te steken. Bij veel mensen werkt het, dus begin er zelf ook eens mee! Daarom heb
ik in plaats van stap, stab neergezet. Stab is in het Engels de bevelende wijs van STEEK! ZET HET MES ERIN! Je zet als het ware het mes in je valse overtuigingen die je als onzichtbare touwen vasthouden. Wie weet is jouw trein nu inderdaad gestopt in Oplossingsdam. Of is jouw trein nu in ieder geval vertrokken in die richting. 
Waar komt weinig zelfvertrouwen vaak vandaan?
Een laag zelfvertrouwen is meestal aangeleerd. Niemand komt namelijk met een te laag zelfvertrouwen op de wereld. Heb je ooit wel eens een jong kind gezien. Blij en onbevangen zijn niet voor niets de woorden die vaak bij jonge kinderen worden aangehaald. Er zijn ouders die  ons bekritiseerd hebben, we zijn gepest door anderen, we zijn naar beneden gehaald door mensen die voor ons toen belangrijk leken, ons vertrouwen is geschokt, we hebben een traumatische gebeurtenis meegemaakt, het kan van alles zijn en zelfs een samenspel van al deze dingen.
De innerlijke criticus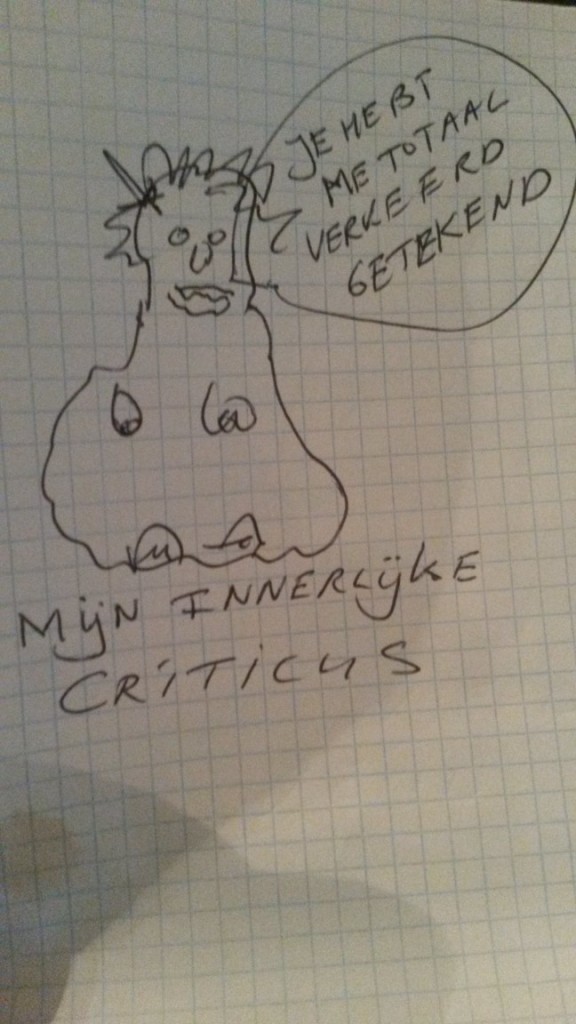 Al die dingen hebben geleid tot iets dat we nu een stem met ons meevoeren. Deze stem heeft nooit een goed of vriendelijk woord voor ons over. Deze stem is de innerlijke criticus. De innerlijke criticus heeft het beste met ons voor. Deze stem wil ons behoeden voor kritiek en levert daarom constant kritiek. Ja, inderdaad paradoxaal kun je het wel noemen. Niet logisch is ook wel een goede benaming hiervoor. Een stem die constant je eigenwaarde aanvalt wil je daarmee behoeden voor kritiek.
Eigenlijk zegt de stem; "gelukkig dat ik er ben om "Jou" te "helpen" , want anders zou …..(vul van alles maar in) nooit goed gebeuren.
Woorden als kluns, sukkel en enorme eikel dat je er toch bent, leveren echt geen meer zelfvertrouwen op. Het enorm verneukeratieve is dat de innerlijke criticus enorm goed en gerechtvaardigd te zijn in zijn kritiek. Want inderdaad dat …. Heb je niet zo goed gedaan, en en ja dat stukje van je persoonlijkheid is niet perfect, dat is toch duidelijk?
Als je jong bent heeft de innerlijke criticus wellicht nog wel waarde. Alleen als je wat ouder en volwassen bent speelt die innerlijke criticus nog steeds dezelfde vastgelopen plaat af, terwijl je inmiddels al op mp3 bent overgegaan, maar ja.
Het praktiseren van een nieuwe stem
Wanneer we nu meer zelfvertrouwen en zelfwaardering willen opbouwen zullen we ervoor moeten zorgen dat we geen geloof meer aan het de woorden van onze innerlijke criticus schenken. Dit doen we nog het meeste door een nieuwe luide stem te introduceren.
Luister eerst eens naar de innerlijke criticus. Hoor eens goed wat hij zegt. Betrap je erop en zet er dan iets totaal anders tegenover.
Voorbeeld:
Nou heb ik weer de hele tijd niets gedaan. Ik ben een nietsnut. Ik moet wat doen.
Verander dat nu in.
Ik doe de hele tijd iets. Ik hou van mezelf. Ik wil wat doen.
Deze zinnen zijn allemaal
Tegenwoordige tijd
Positief
Op het moment dat jij dit tegen jezelf hardop gaat zeggen, ga je wonderlijk genoeg verandering ervaren.
Je hebt al 10.000 maal zeker iets negatiefs tegen je gezegd, nu ga je bewust iets positief over jezelf zeggen. Het is helemaal niet nodig dat je dit gelooft. Het enige wat nodig is, is dat je het doet. Ja, in eerste instantie wellicht een beetje belachelijk. Nou en? Als je er goed over nadenkt is het  net zo belachelijk dat als je iets leuks over jezelf zegt het in eerste instantie niet helemaal goed voelt. Capiche?
Oefening
Zeg elke dag bijvoorbeeld minstens! 100 keer.
Je VOORNAAM, je bent een fijn mens. Je bent het waard om van gehouden te worden.
Na een tijdje zal het gevoel dat jij jezelf aan het voorliegen bent langzaam afnemen, en zal je de woorden die je tegen jezelf zegt geloofwaardiger gaan klinken.
Oefening 2
Stel een lijst samen met zaken die je aan jezelf bevallen. Een lijst met zaken waarvan je zegt: Mwoah, ik had het liever anders gewild, maar ja ik kan er wel mee leven, en een lijst waarvan je zegt: ECHT, deze zaken wil ik zo graag achter me laten. VOORGOED!
Nu neem de laatste lijst eens door.
Zeg nu:
Ik ….je voornaam….. ben bereid om mezelf te aanvaarden (accepteren hoeft niet, dan beslis je dat je er echt helemaal cool mee bent) ook wanneer ik zo klunzig doe, jaloers ben, zo angstig ben (en vul verder maar in wat jij kan invullen) want ieder mens heeft zijn zwakke en sterke punten zoals ieder mens hier op aarde.
Oefening 3
Elke dag laat je de dag even passeren, en kijk je eens wat je nu echt goed hebt gedaan. Elke dag is er wel iets. Het echt niet iets heel buitengewoons te zijn. Het mag ook iets zijn wat anderen al heel veel goed doen, en het was voor jou de eerste keer. Het mag heel goed voor jou wel een succes zijn.
Nu met deze simpele oefeningen versterk je jouw zelfvertrouwen. En zeg nou zelf, wat kan dit nou kwaad? Baat het niet dan schaadt het zeker niet.
Kijk ook even hier de Nicest Place On The Internet. http://thenicestplaceontheinter.net/.
Als je er nou zelf ook wat op zet, dan kun je vast oefening 3 skippen!
De 6 pilaren van eigenwaarde en zelfvertrouwen
In het bekende boek de 6 Pillars Of Self Esteem zie je ook dat ook zelfrespect net zoals zelfvertrouwen gepraktiseerd moet worden.

De 6 pilaren van eigenwaarde zijn
Uiterlijk (goed verzorgen dus)
Vrienden (vrienden helpen je door de dag heen)
Leuke dagbesteding (je moet bezig blijven)
Een dak boven je hoofd (je moet toch ergens kunnen leven)
Een goede gezondheid (gezondheid is het belangrijkste toch)
Je bent duidelijk beter en slimmer dan andere mensen
Wellicht had je het al door, dat is dus allemaal niet. Het ligt allemaal buiten jezelf. Natuurlijk is het handig als je het doet, alleen het is allemaal extern. Zelfs duidelijk beter en slimmer dan andere mensen is natuurlijk helemaal fout. Je zou er dan nog de meeste andere mensen kunnen neerzetten, alleen het blijft altijd een race. Er is altijd iemand slimmer dan jij. Duh…
Nee, de 6 pilaren van eigenwaarde zijn.
Het praktiseren van bewust leven
Het praktiseren van zelfacceptatie (oefening 1 t/m 3)
Het praktiseren van verantwoording nemen voor je eigen acties
Het praktiseren van assertiviteit
Het praktiseren van een doelbewust leven
Het praktiseren van persoonlijke integriteit
In de volgende post ga ik hier verder in. Het is al zo'n lange post. Ik hoop dat ik je hiermee in ieder geval een beetje heb kunnen helpen met inzicht wat zelfvertrouwen doet en hoe je meer zelfvertrouwen krijgt en je zelfvertrouwen zou kunnen vergroten.
Toedeledoki,
Pim aka SmoothDoc
Dating Doctors
P.S. Wil je ons boek Zelfvertrouwen Met Vrouwen specifiek gericht op het krijgen van specifiek Zelfvertrouwen op het gebied van vrouwen versieren 60 dagen vrijblijvend op zicht ontvangen, klik dan nu op het plaatje van het boek hieronder!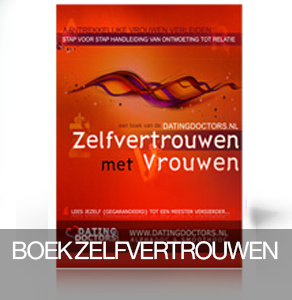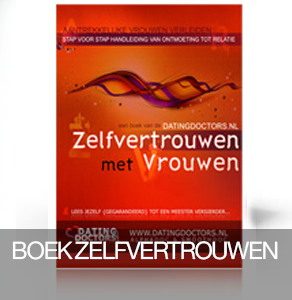 Voor nog veel meer tips, bekijk ook eens deze artikelen:
Oh, en vergeet hieronder je gratis download niet ;)