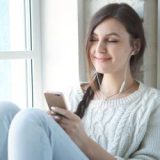 Je hebt je aangemeld bij een online dating app
Je wil matches.
Je wil vriendjes of vriendinnetjes.
Je wil je droomman of -vrouw vinden.
Maar enige wat jij krijgt is kramp in je vingers van het swipen…
…In plaats van het chatten met je matches.
Daar komt NU verandering in.
Ik ga je legendarisch maken in het online daten.
Belangrijk: Dit artikel is voor mannen. Ben je een vrouw? Ga dan naar dit artikel specifiek voor jou geschreven:
7 Onmisbare Online Dating Tips Voor Vrouwen: Zo vind je de ideale man
Wat je vandaag van me krijgt over online dating:
11 tips die je online dating 180 graden omdraaien richting succes
Welke psychologische trigger je wil raken met je profielfoto's
Hoe je haar iedere keer weer kan laten smeken om antwoord met je openingszin
Hoe je je chatgesprekken 10x beter maakt met maar 5 simpele veranderingen
Krachtige gesprekstechniek om haar de recentste foto's van haarzelf te sturen en gelijk een flirterige sfeer neer te zetten
Bonustips voor wanneer je dan met haar op date gaat
Veel meeeeer…
Wil je trouwens écht goed worden met Tinder en Whatsapp? Download dan eens mijn Gratis Tinder & Whatsapp Spiekbriefje met 25 geweldige tips om altijd die date te krijgen.
Tip 1: Eén psychologische truc die je in je profielfoto's wil toepassen voor matches
Waarom je geen matches krijgt, wil je weten?
Kijk eens naar je profiel.
Wat zie je?
1 tot 6, of meer foto's van jezelf waarschijnlijk. De hoeveelheid maakt niet zoveel uit. En is een onderwerp voor een ander artikel.
Ik kan wel een gooi doen, naar wat ik zou zien als ik je profiel onder mijn neus gedrukt krijg:
Je staat alleen maar lief naar de camera te lachen.
Merendeels van je foto's zijn selfies.
Je staat alleen maar op groepsfoto's met je vrienden. Met of zonder bier.
Je staat enkel de horizon, met een diepe frons op je voorhoofd, af te keuren.
Het lijkt alsof je een model bent, omdat al je foto's beter geposeerd zijn dan het gemiddelde fotomodel (terwijl je dit niet bent natuurlijk)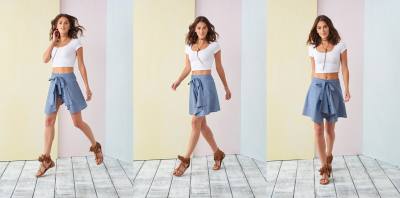 Kortom het maakt niet uit hoeveel foto's je zou hebben.
Ze vertellen allemaal 1 ding.
En dit is niet de bedoeling van je profielfoto's
Dit wel:
Er bestaat een psychologisch effect dat jij bij haar wil creëren met je profielfoto's
Het Limerence effect
Wat dit doet is dat zij beelden die ze van je heeft gaat samenbrengen in een romantische fantasie met jullie samen.
Een fantasie van jou, waar ze verliefd op kan worden.
Door deze fantasie, krijgt ze een gevoel bij je en die zorgt uiteindelijk dat ze met je matched, met je op date gaat, je vriendin wordt en jullie later gaan trouwen… Bijvoorbeeld.
Hoe creëer je dit effect bij haar?
Door een verhaal te vertellen met je foto's.
Je wil met je foto's zoveel mogelijk kanten van jezelf laten zien.
En hier je persoonlijkheid in naar voren laten komen.
Je uitstraling, maakt hier voor een groot deel van uit. Verbeter je uitstraling eenvoudig nu, door het lezen van het artikel.
Zo heeft zij een karakter voor haar fantasieverhaal.
Waarin ze naar hartenlust haar fantasieën de vrije loop kan geven en een heel sprookje met jullie samen kan laten afspelen.
*Swipet rechts*
Win.
Tip 2: 5 Grootste fouten in iedere profieltekst
Leuk.
Ze heeft een hele fantasie van jullie samen in haar hoofd uitgedacht.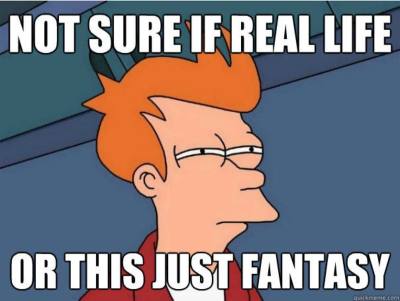 Er ontbreekt nog één ding:
Hoe klinken de woorden uit jouw mond.
Daar zorgt de profieltekst voor.
Wanneer jij echter één van de volgende fouten maken, ben jij niet de hoofdrolspeler met diepgang aan haar zijde.
Maar een typetje dat in één woord is te omschrijven:
Saai.
Doe dit dus niet:
Een opsomming maken van alles wat jij leuk vindt, en de rest van de hele wereld ook: Reizen, uitgaan, pizza eten, met vrienden afspreken, filmkijken, noem maar op…
Niets in je profieltekst neerzetten. Pff komop, ik bedoel, ik hoop dat je tenminste een beetje eigenwaarde hebt.
Iets in de trant van: Vraag maar raak, ik ben een open boek. Vind je jezelf niet interessant genoeg om over jezelf te beginnen ofzo?
Eén of andere filosofische woe-woe quote. Leuk dat je iedere dag lacht. Ik hoop het wel voor je tenminste
Van je profieltekst een autobiografisch roman maken. Bewaar dat maar voor je CV
Spelfouten in je profieltekst.
Hier een paar voorbeelden van de andere sekse met dit soort profielteksten.
En zeg nou zelf, zonder de foto's erbij, wie je leuker lijkt.


Tip 3: Hoe je haar kan smeken om antwoord op jouw openingszin
"Hoi"
"Hoe gaat het?"
"Leuk dat je me matched"
– De openingszin van een toekomstige 'unmatch'
Laatst hoorde ik het nog van een date.
"Als een jongen met 'hoi' begint, dan veeg ik hem bij voorbaat al weg. Maakt niet uit hoe knap hij op de foto's staat. Ik weet precies hoe dat vervolgd in het chatgesprek en daarna in de date"
– Een date laatst
En daar kan ik mij wel in vinden.
Daarom 3 manieren om het gesprek zo te openen dat ze…
Vrijwel MOET reageren
Jij het gesprek altijd met 1-0 vóór aftrapt
Je al halverwege de date bent na slechts één bericht
Komen ze:
Gifje
Waarom zelf iets bedenken als je uit een ruim assortiment grappige gifjes kunt kiezen.
Gifjes zijn bewegende plaatsjes.
Gebruik de zoekfunctie om een goede te vinden.
Zo heb ik er één gevonden van een hond die een knipoog geeft. Voor mij werkt hij goed.
Probeer 'm zelf eens zeg hoe die voor jou werkt.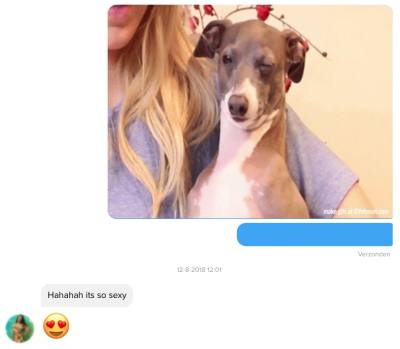 Actiegericht
Snel richting de date willen werken?
Zorg dat je openingszin actiegericht is.
Check hieronder twee voorbeelden: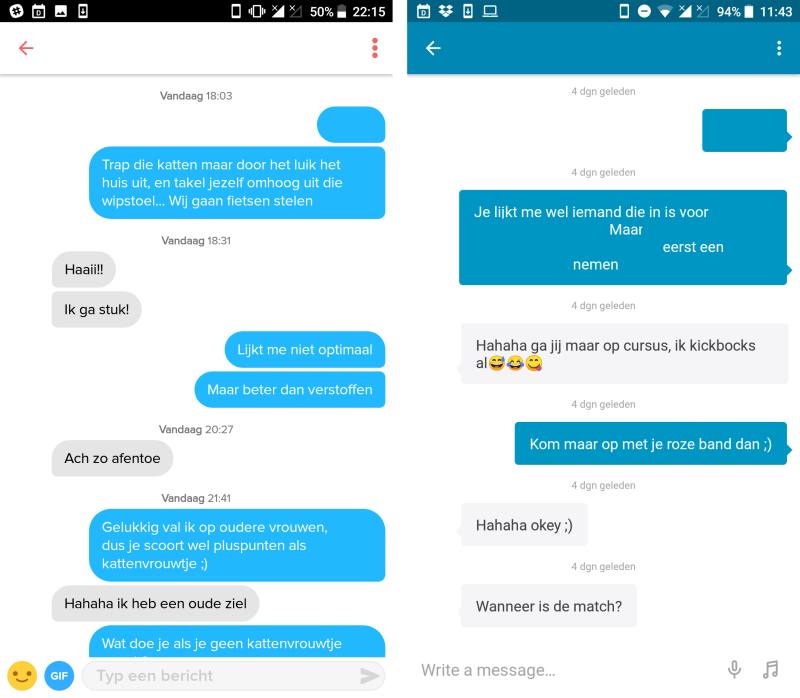 Het eerste voorbeeld is afgestemd op haar profiel, waarin ze zegt dat ze kattenvrouwtje wordt.
Het tweede voorbeeld is meer een standaardzin als haar profiel inspiratieloos is. Gebruik deze als 'invul-openingszin'. Het format van de zin lijkt me duidelijk…
…Je geeft twee opties, zodat het lijkt alsof ze keuze heeft, maar eigenlijk zegt ze met beide toe op een date.
Na de openingszin wil je vaak terugverwijzen naar de actie die jullie gaan doen (zie voorbeelden).
Met een klein beetje geluk, match je iemand die direct vraagt wanneer jullie het gaan doen. Bij het recht voorbeeld spraken de dan ook al op het tweede schermpje de date af voor de volgende dag.
Clickbait
Hiermee MOET ze reageren.
Ken je die popups op websites van vroeger die vertelde dat je de miljoenste bezoeker was en daarom een prijs had gewonnen?
En als je er dan op klikte moest je eerst nog tig surveys invullen en uiteindelijk bleek dat je geen ruk gewonnen had.
Maar ondertussen hadden ze je pc waarschijnlijk wel volgepompt met allerlei troep, zodat Rusland weer beter weet wat er in het westen gaande is.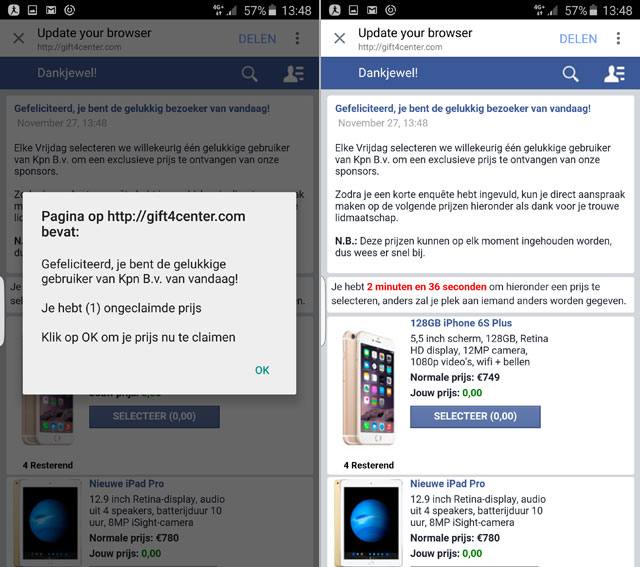 Hoe dan ook.
Dat is 'clickbait'
Echter deze vorm van clickbait is wel erg achterhaald.
Niet veel mensen meer die hier intrappen.
En lekkere Tinderchicks al helemaal niet.
Toch is ook clickbait door geëvolueerd en heb je nu veel subtielere vormen.
Kijk maar: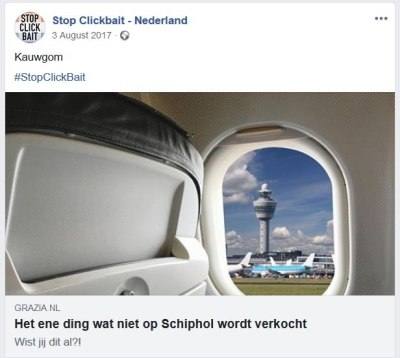 En ook ik heb niet stilgezeten om een clickbait openingszin te maken waar vrijwel iedere vrouw op moet reageren.
Hij is zo in elkaar gezet dat ze niet anders kan dan slijmen om het antwoord.
Wil je precies weten hoe je deze wil inzetten?
Hiervoor heb ik een video gemaakt, die de kracht van deze openingszin laat zien.
Check hem hier, de Messi Versiertruc
Trouwens, bekijk hier nog 9 andere simpele tips om een Tinder gesprek te beginnen.
Tip 4: 4 elementen voor je berichten die haar op date krijgen
Dat wordt vanaf nu jouw mantra tijdens het chatten.
Voldoen de tekst die je wil sturen hieraan…
…Dan mag je op 'versturen' drukken.
Zo niet.
Denk dan nog even goed na of het valt in één van de onderstaande 4 categorieën.
Doet dat het?
Goed.
Dan gaat het gesprek de goede kant op.
Want als het niet de goede kant op gaat, gaat het de verkeerde kant op.
Naar de afgrond.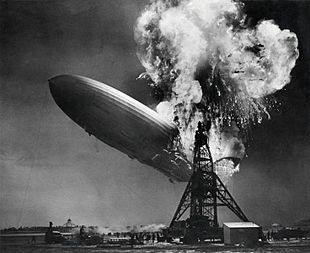 Want zoiets als een 'stilstaand gesprek' bestaat niet.
"Everything is always in motion. Every day, every moment, is either curving upward, or curving downward."
– Jeff Olson
De eerste 3 vallen onder dezelfde noemer…
…Prikkelen.
Je wil dat ze altijd wat bij je voelt.
En saaiheid is daar geen één van.
Hoe je dat bij haar opwekt doe je door te:
Check de volgende video waarin ik je gesprekstechnieken geef die voldoen aan deze drie elementen van prikkelen. Dan gaan we daarna ieder element afzonderlijk af.
De simpele regel die AL je online gesprekken direct beter gaat maken
Hoe je met slechts 2 leestekens haar meer haar best laat doen voor jou
3 plaatjes om je WhatsApp gesprekken flirterig te maken (handig voor wanneer je even té serieus bent)
1 krachtige techniek om haar te laten verlangen naar jou berichtjes
Hoe je door je berichten met haar gaat slapen, in plaats van haar in slaap laat sukkelen
Plagen
Dit houdt in dat je haar durft uit te dagen, dat je tegen haar in durft te gaan, dat je haar niet altijd te serieus neemt.
Want veel durven niet tegengas te geven bij een vrouw.
Het moment dat ze dat doen denken ze dat ze haar kwijtraken.
Maar een gezonde hoeveelheid tegengas zorgt juist voor wat wrijving.
Wrijving die resulteert in spanning, die omgezet wordt in aantrekkingskracht.
Dus por haar een beetje en zie haar langzaam dichter naar je toekomen.
Lees ook het volgende artikel, zodat je haar kan plagen als je kleine zusje en haar later mee naar huis kan nemen als de grote broer:
Meisjes plagen kusjes vragen: 7 Plaag-tips om vrouwen te versieren
Eén ding dat zeker niet mag ontbreken is een verzameling goede zinnen waarmee je haar op ieder moment kan plagen.
Valt het gesprek even stil, of is het tijd om het weer even een spike te geven?
Maakt niet uit.
Maar met mijn Whatsapp spiekbriefje met 25 knip-en-plak zinnen krijg je dit altijd voor mekaar.

Lol
Als het niet leuk is…
…Dan is het saai.
Voorkom dus dat je chatgesprek saai wordt door altijd het element van lol erin te verwerken.
Wanneer jij namelijk lol hebt, dan maakt het niet uit wat zij ervan vindt. (Natuurlijk binnen de normen)
Jij hebt het leuk en als ze jouw lol wil ervaren dient, ze in te stappen.
Anders gaat de lol-trein er gewoon volgens dienstregeling vandoor, op naar de volgende halte.
Bijkomend effect is dat zij ook kan relaxen.
Bij mannen die niet hun eigen lol hebben, ervaren vrouwen snel een soort prestatiedruk.
Alsof het werk in haar handen gedrukt wordt.
Terwijl het enige wat ze wil is kunnen genieten wat jij geeft en haar overgeven aan het avontuur met jou.
Hier een voorbeeld van je eigen lol hebben, waarin we met steenkolen Engels nummer na nummer binnenhalen
Goed.
Terug naar lol in je chatgesprek
Een simpele manier van lol, die ik vaak toevoeg aan mijn chatgesprekken, is doormiddel van haar bijnaam te geven.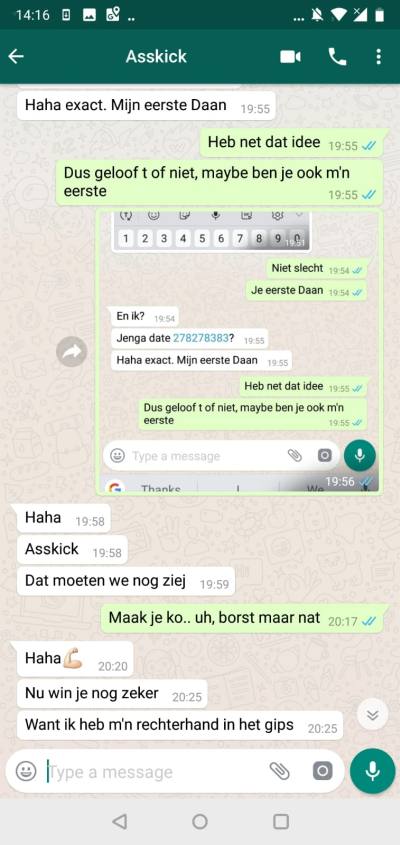 En dan een screenshot van het chatgesprek, met haar contactnaam, te sturen.
Samen
Speel je alleen maar de clown.
Dan kom je niet serieus op haar over.
Je bent dan enkel de eenzijdige dude die haar aan het lachen maakt.
Maar verder eruitziet alsof hij geen interesse in haar heeft.
Daarom wil je connectie opbouwen.
En de vragen:
"Hoe was je dag?"
"Wat voor werk doe je?"
"Wat zijn je hobby's?"
Die kun je vergeten.
Betere manieren vind je hier:
De 6 ingrediënten van diepe connectie
@@@@@@SAMEN
Dus kortom:
…In plaats van dat je haar in slaap sust met je feitjes.
En dan nog de 4e categorie, deze valt buiten 'prikkelen' om.
Het is de brandstof in de interactie.
Een die voor vooruitgang zorgt, zodat er toegewerkt wordt naar de date.
Leiden
Als jij gaat wachten totdat zij op jou op date vraagt kun je namelijk lang wachten.
Jij bent degene die het gesprek ergens heen dient te trekken.
Hoe je dat wil doe, vertel ik je in de volgende tip.
Tip 5: 5 simpele regels om je chatresultaten direct te verbeteren
Chatregels.
Simpel.
Altijd toe te passen.
Effectief.
Want volg deze regels niet op en er is grote kans dat de match aan je voorbij zal vliegen:
Stop met smileys, tenzij het écht nodig is om duidelijk te maken dat het een grap is. Een getypte knipoog 😉 is dan meer dan voldoende.
Ze is gesprek met een man, niet een vriendin. Stop met die kinderachtige smileys voor 0,0 reden.
Stel geen vragen aan haar, totdat zij een vraag aan jou gesteld heeft.
Onderliggende communicatie met vragen aan haar stellen: Vaak stel je ze omdat je niet weet wat je moet zeggen. Zorg dus eerst voor een gespreksbodem, zodat de vragen die je dan gaat stellen uit interesse zijn in plaats van twijfel.
Reageer korter en bondiger dan zij, zodra het gesprek op gang is. Check daarvoor de verhouding van de gekleurde vlakken in je chat. (Hierover trouwens later nog meer tips.)
Mannen hebben vaak de neiging om alles over zichzelf bloot te leggen zodra ze één vraag stelt. Geef haar juist ruimte om interesse in je te tonen.
Reageer niet altijd direct. Bijvoorbeeld gebruik je telefoon alleen op bepaalde tijden. Bijvoorbeeld een uurtje 's ochtends en in de avond. En gooi hem voor de rest van de tijd op 'stil' in een hoek.
Door iedere keer direct te reageren, komt het over alsof je niets beters te doen hebt. En je al je tijd in haar steekt. (Later in het artikel ga ik dieper op dit snel/langzaam reageren in)
Stel elke 10 berichten de date voor.
De fout die veel mannen namelijk begaan is een praatvriendje van haar worden. Daarnaast kan ze na een tijd het idee krijgen, dat je geen ballen hebt om haar uit te vragen OF dat zij niet leuk genoeg is voor jou maar dat je dat niet durft te zeggen. Chatten is het medium om elkaar in het echt te gaan zien.
Zoals altijd met regels:
Regels zijn er om alles in betere banen te leiden en om voor optimale omstandigheden te zorgen.
Je kan de regels natuurlijk breken, maar dan zijn de gevolgen voor eigen risico.
Of zoals iemand anders het zei:

Tip 6: Een eenvoudige check of haar foto's wel recent zijn
Het is ons allemaal wel een keer gebeurt.
Op haar profielfoto ziet ze eruit als de dochter die George Clooney en Megan Fox zouden krijgen.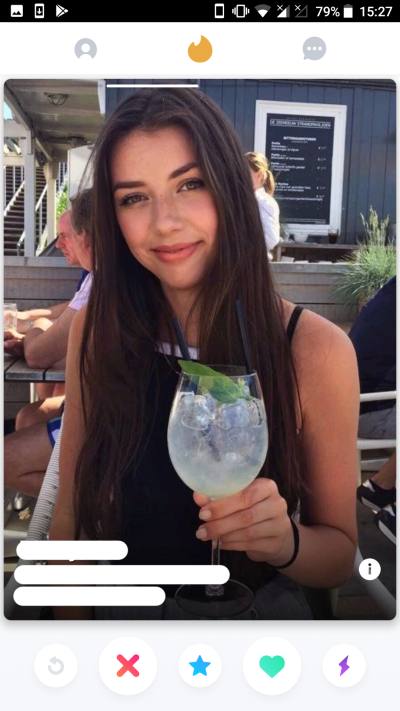 Maar als je haar dan in het echt ziet…
…Is het duidelijk dat ze de afgelopen tijd enkel Ben & Jerry's heeft lopen snoepen.
Wat zeg je dan als ze aan komt lopen?
Dat antwoord hou ik je bespaart voor een andere keer (Of vraag het Mathijs eens).
Met deze tip wil ik voorkomen dat je überhaupt in zo een situatie terecht komt.
Maar op de volgende manier om een foto van haar vragen komt ook een beetje boers over:
"Hey, stuur eens een foto van jezelf"
*Ontvangt foto*
"Nee, nee. Ik bedoel eentje van je lichaam"
Yep, hééééél smooth.
Daarom een manier die wel het resultaat oplevert, maar niet zo oppervlakkig overkomt. Daarnaast is nog een grappig moment in de chat ook.
Win-win.
En direct een leuke gesprekstechniek.
Bekijk de volgende afbeelding maar even, en zie wat ik bedoel:
Ik leid hem vaak zelf in met een foto van wat ik aan het doen ben.
(Vaak met een mooie achtergrond, die interesse wekt)
Hier lukte dat niet, omdat het opeens wel heel snel ging met afspreken. Maar ik wel nog even wilde checken.
Daarna zeg ik tegen haar, een foto te sturen.
Bovenstaande is dan vaak het resultaat. Een foto zonder haar erop.
Prima, maar niet helemaal wat je wil.
Oplossing:
"Waar ben jij op deze foto"
Grote kans dat ze er daarna gewoon één stuurt met haarzelf erop. En precies hoe jij het zou willen. (Vrouwen begrijpen vaak ook wel waarom je het vraagt, maar geven je in ieder geval dan wel pluspunten voor subtiliteit)
Hieronder nog één die gewoon bij de eerste foto netjes doet wat ik vraag.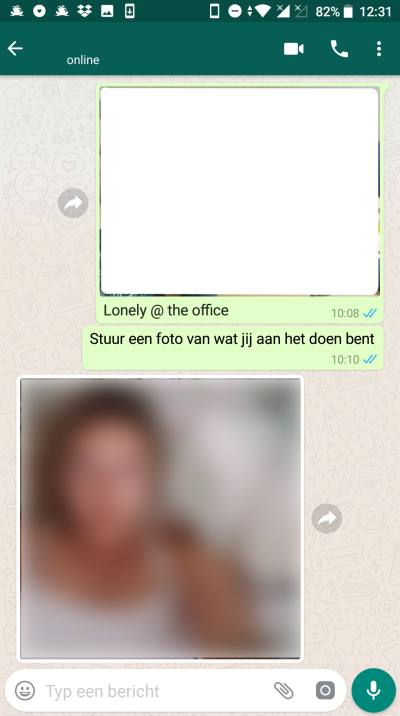 Maar met elke techniek, zijn er natuurlijk ook slimmerds die dan met droge tekst antwoorden, waar zij zich op de foto bevindt.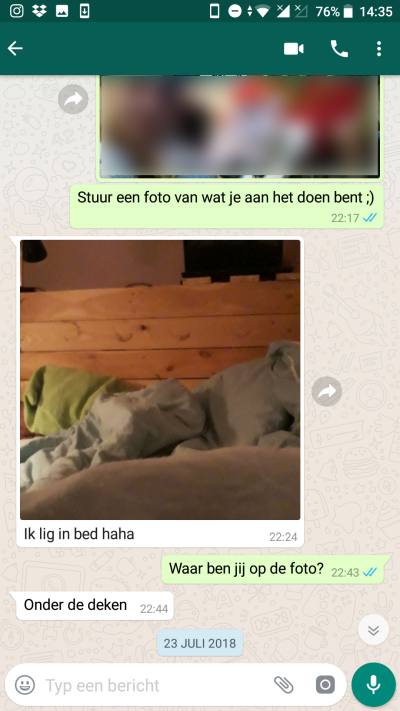 Ook in orde.
Uiteindelijk belandt je toch wel onder de deken…
…Mijn deken 😉
Tip 7: Timing is everything
Alles draait om timing, zoals deze succesvolle baseball speler hier zegt.

Warren Spahn was echter pitcher.
En de taak van de pitcher is om de timing juist te verstoren, zodat de slagman de bal niet raakt.
Tijdens vrouwen versieren draait een groot deel echter om timing.
Anders sla jij de kans op aantrekkingskracht mis.
Voorbeelden van verkeerde timing:
Je liefde naar haar uiten op het eerste berichtje, gaat je geen date opleveren
Haar plagen terwijl ze iets persoonlijks deelt, is niet heel gentleman
En één die ik vaak bij coaching zie: tegen haar beginnen te praten, terwijl ze nog geen aandacht voor je heeft.
Dit zijn nog grote timingfouten.
Als het op in gesprek zijn met een vrouw aankomt draait het meer om de details.
Denk maar aan op het juiste moment met een plaag komen of je grap.
De punchline van je grap.
Dit is het verschil tussen een 'catch' en een 'homerun'.
Daarom gaan we nu dieper in op jouw timing in het chatgesprek:
Tip 8: De enige waarheid over hoe snel jij wil reageren op haar berichten
Barney Stinson, spitting the value… huh-umm
Klinkklare onzin dus.
Net als Barney Stinson, is dit wél wat menigeen datingcoach zegt:
"Wacht minimaal net zo lang met reageren als dat zij doet."
Maar laat me je wat vertellen.
Het is een is chatgesprek dat je met de vrouw hebt.
Niet een heen-en-weer-geslinger-van-oneliners-chat.
"Maar Daan, zei jij net óók niet dat je niet direct wil reageren?"
Jep, goed opgelet m'n beste lezer. Pluspunten voor jou…
…Echter, met deze tip wil ik daar dieper op in duiken.
De reden dat ik zeg dat je niet direct wil reageren, is omdat de meeste mannen aan hun mobiel geketend zitten.
Ze hebben, bij wijze van spreken, het chatgesprek de hele dag geopend naast hun liggen en zitten hijgend en kwijlend boven hun mobiel totdat er een nieuw bericht van haar verschijnt.
Als je op een gezonde manier echter met je chats overweg kunt, dan is een vlot gesprek op gang krijgen (waarin jij en zij snel reageren) ontzettend krachtig.
Bekijk de afbeelding:

Merk je op dat ik het gesprek langzaam steeds meer op gang probeer te trekken?
Kijk maar naar de tijden.
Na een aantal berichten is er zelfs een periode zonder tijdsaanduidingen, wat inhoud dat we allebei direct op elkaar reageren.
Nu hebben we een gesprek.
Voordelen hiervan:
Je kan in een korte veel informatie uitwisselen.
Ze is enkel met jou bezig, in plaats van dat ze nog eens in de tussentijd op 10 dudes antwoord geeft.
Wanneer je steeds wacht met antwoorden 'resetten' haar emoties weer steeds. Door een gesprek te beginnen kun je een haar meenemen op een emotionele rit met ups en downs, in plaats van steeds maar een kleine spike.
Door een gesprek te beginnen lijkt het alsof de tijd die jullie 'samen' spenderen langer, wat meer comfort bij haar opwekt om met je op date te gaan.
Je bouwt momentum op. En op het juiste moment stoppen, zorgt ervoor dat zij door wil gaan met het gesprek (wélk moment het juiste is vertel ik je trouwens in de volgende tip)
Denk maar terug aan de natuurkunde les.

Je hebt haar op gang gebracht en momentum gegeven. Wanneer jij stopt, houdt zij haar momentum.
Zij wil doorgaan en de positieve vibes van het chatgesprek blijven krijgen.
Maar wanneer is nu het juiste moment om te stoppen met reageren?
Check de volgende tip.
Tip 9: Hoe je haar laat snakken naar je volgende bericht
Je kent de volgende situatie vast wel.
Je plan was om één aflevering van een serie te kijken.
Maar uiteindelijk kijk je in één keer het hele seizoen.
Waarom?
Omdat aan het einde van elke aflevering die verdomde cliffhanger zo spannend was.
Dit is precies het moment waarop jij ook wil stoppen met het sturen van berichten:
Op het hoogtepunt in het gesprek.
Wat er gebeurd.
Zij snakt als een crackverslaafde naar het vervolg.
En als zij haar shot niet binnen een aantal uren krijgt, kan het maar zo gebeuren dat ze figuurlijk aan je mouw gaat trekken.
Bekijk maar: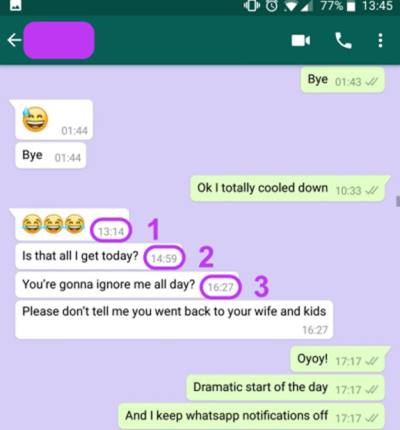 Hier voorafgaand hadden we een vlot gesprek over allerlei interessante onderwerpen die ik je zal besparen 😉
Dan opeens kap ik het gesprek af en geef haar de volgende dag in de ochtend nog een vinger.
Waarop zij reageert, met de hoop dat ik het gesprek vervolg.
Dat doe ik niet.
Wat er gebeurt…
Zij vraagt tot twee keer toe of ik haar alsjeblieft weer iets wil sturen.
Wat dit betekend:
Ze zit de hele dag met jou in haar gedachte.
Zal hij reageren.
Zij ik iets verkeerd
Vind hij me wel leuk
Was het wel goed genoeg voor hem
Wat dit, wat dat.
Dan wil ik je hierover nog één belangrijk ding meegeven.
Want ik kan me nu al voorstellen dat de comments vollopen met reacties dat deze techniek niet werkt.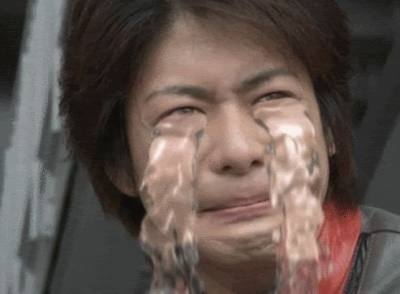 Want het zal niet altijd werken.
Door eerst veel te investeren en snel te antwoorden vergroot je kansen.
Maar 100% garantie heb je niet.
Hier nog een voorbeeld.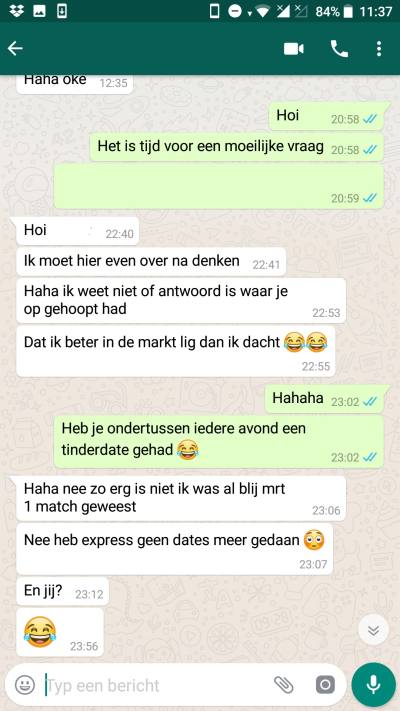 Zie dat ze eerst na 5 minuten om een reactie vraagt en daarna een uurtje later nog een keer met de emoticon.
Wil je net als ik vragen stellen die haar laten nadenken en waardoor ze antwoorden geef waar mee kunt werken. In plaats van ja/nee/haha.
Check de volgende artikelen:
127 Vragen om elkaar beter te leren kennen (Date & Relatie)
143 Vragen om elkaar te leren kennen en haar gek op je te maken
Uitstekende vragen die je kunt stellen over de chat
Soms is het krachtig om een tijdje kort op de bal te spelen. Soms is het tegenovergestelde voor het gesprek nodig.
Daarnaast heb je de kracht van de uitzondering: Wanneer je normaal snel of langzaam antwoord en deze standaard plots doorbreekt.
Tip 10: Hoe je haar met 99% kans van slagen op date vraagt
Je hebt nu een aantal dagen een leuk chatgesprek met een vrouw.
Het is duidelijk dat jullie elkaar wel zien zitten.
Tijd om haar op date te vragen.
Helaas kan ze niet.
Nu blijf je doorhameren om een beschikbare datum uit haar te slaan, maar na een drietal pogingen is ze er klaar mee.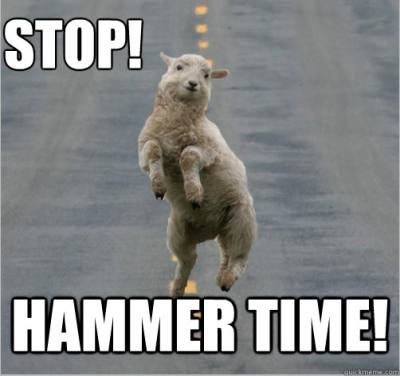 En dat was dan het einde van jullie relatie.
Bekend?
Want dit is wat veel mannen fout doen.
Ze slaan de helft van de stappen over die nodig zijn om haar vlekkeloos en zonder gezeur op date te krijgen. (de stappen krijg je zo van me + zinnen hoe je haar het beste op date kan vragen)
De manier om haar bij de eerste keer op date vragen, uit volle borst 'JA' te laten roepen.
Net als dat na gezellig praten opeens voor de zoen gaan, zonder enige vorm van fysiek contact voorafgaand weinig kans van slagen heeft…
…Is haar van de hak op de tak op date vragen ook slecht voor je kansen.
Dit gaat er vaak fout:
Zoals ik hierboven zei: Leuk gesprek en direct om een date vragen.
Haar uitvragen, terwijl ze op allerlei andere voorstellen ook al 'nee' zei.
Het gesprek loopt niet lekker, laat ik een leap-of-faith doen en haar als laatste redmiddel op date vragen.
Nee, nee en nee.
Dat gaat niet werken.
Hoe wel:
Kom achter haar agenda. Is ze student, grote kans dat ze overdag niet kan. Tentamenweek? Beter om over een week te plannen. Doe dit niet te overduidelijk door als een repeteerboog in één keer allerlei vragen op haar af te vuren.
Beschrijf de date op een leuke manier, zodat ze enthousiast wordt om met je op date te gaan. Dit kan simpelweg bereiken door de standaard: "Laten we drankjes doen" (boring), te veranderen naar: "Laten we smoothies zuipen" (interessant). Daadwerkelijk smoothies op de date drinken is dan helemaal niet noodzakelijk.
Geef haar schijnopties.
Check de video hieronder uit wat ik daar precies mee bedoel.
Bekijk daarnaast ook zeker de video, want hier leg ik uit hoe je het succespercentage van 99% bereikt en geef ik je een aantal voorbeeldzinnen die je kunt gebruiken om haar op date te vragen.
Tip 11: Finetune deze 4 aspecten en heb altijd succes op je date
Ik begrijp dat dit artikel over online daten gaat…
…Maar ik wil je niet achterlaten zonder een aantal tips over de date zelf, die je straks met die mooie vrouw hebt.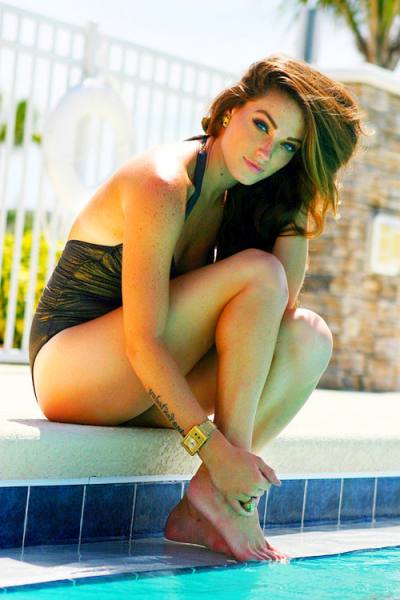 Wordt direct fysiek met haar.
Geef haar een knuffel.
De wetenschap wijst inmiddels uit dat dit doet ontspannen, en ook aantrekken.
Dit zorgt er gelijk voor dat de barrière van elkaar aanraken doorbroken is voor de rest van de date.
Dan hoef je straks tijdens het drankjes doen er niet meer tegenaan te hikken dat je haar op een moment dient aan te gaan raken.
Is het nog te vroeg op de date om als vriendje en vriendinnetje hand in hand te lopen?
Of is ze nog een beetje terughoudend voor deze intentie qua fysiek worden?
Loop dan arm in arm.
Als een echte gentleman die zijn date beschermt van alle kwaden in de wereld.
Door arm in arm te lopen laat je duidelijk zien dat je leidt.
Daarnaast is het een goede manier van fysiek zijn, zonder dat het gelijk zo opvallend is.
En welke vrouw wil nu niet aan jouw sterke shotguns van een armen hangen 😉
Regel 1: Ga naast elkaar zitten.
Regel 2: Ga naast elkaar zitten.
Regel 3: Zorg dat je een niet-zo-standaard-bruin-cafe-met-tafeltjes kiest, zodat je naast elkaar kunt zitten op bijvoorbeeld banken.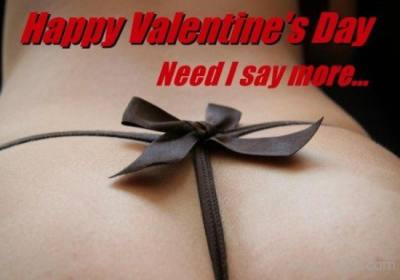 Had ik al gezegd dat ik banken in een café hoog in mijn vaandel heb staan?
Of minimaal een plek waar je de stoelen dicht tegen elkaar aan kunt schuiven om naast elkaar te zitten.
Zoenen op de eerste date is vereist.
Wanneer je niet zoent, is het bijna altijd een slechte date.
Vaak heb ik meegemaakt dat dan de volgende dag een berichtje in je app verschijnt waarin staat dat het erg gezellig was, maar ook niet erg is als jullie enkel vrienden blijven.
Wanneer is het moment dat je moet zoenen vraag je je nu af?
Aantrekkingskracht is spanning, en deze kun je voelen.
Ja, jij ook.
En net als een schuifdeur opent zich het moment om te zoenen en sluit deze weer.
Wanneer er genoeg spanning is, de deur genoeg is open geschoven, kun je voor de zoen gaan.
Maar de deur sluit zich ook weer. Spanning is eindig. Het vervliegt.
Sluit de deur, en vervliegt hiermee de spanning, dan is het einde verhaal.
Richtlijn: Zoen binnen 1,5 uur.
Voor alle voorbereiding die je nodig hebt heb ik hier een tweetal artikelen voor je:
19 Must-Have Eerste Date Tips voor een Onvergetelijke Date
47 Eerste Date Vragen om een Geweldige Indruk te Maken
En vergeet de volgende video niet te checken, waarin ik je vertel over:
Hoe je het gesprek emotioneel maakt, hetgeen wat nodig is om een vrouw te versieren
De manier om nooit meer in de friendzone terecht te komen
3 zinnen die je date stimuleren
Wat je kan leren van de Gurkhas in Nepel om je droomvrouw te versieren
Beste voorbereiding op een date die je kan hebben
Deze voorbereiding ga ik met je delen
Want na het lezen van dit artikel, gaan de matches binnenstromen en het zal ook niet lang duren voordat je agenda begint vol te stromen.
Fantastisch.
Nu hoef je enkel nog maar te presteren op je favoriete datelocatie met je knappe date.
Want de rest heb je al voorbereid.
Met dat laatste stuk 'presteren' ga ik je helpen.
Door middel van mijn gratis Transformatiepakket.
Check hem hieronder uit en ik hoor na je date graag hoe het was gegaan.
Van je bro,
Daan de Ram
Voor nog veel meer tips, bekijk ook eens deze artikelen:
Oh, en vergeet hieronder je gratis download niet ;)