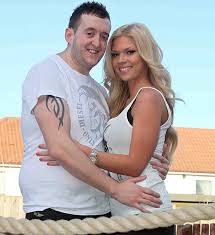 Je ziet niet vaak een heel groot verschil in uiterlijk. Bijvoorbeeld een enorm lelijke man met een supermooi model of een enorm lelijke meid met een superknappe bink.  Grote verschillen in uiterlijk komen gewoon niet zo vaak voor. En als het voorkomt zie je vaak dat de man of vrouw iets anders heeft dan uiterlijk wat aantrekkingskracht veroorzaakt. Bijvoorbeeld geld of macht of allebei. Google maar eens op Flavio Briatore (foto hieronder).
Wil je trouwens écht goed worden met Tinder en Whatsapp? Download dan eens mijn Gratis Tinder & Whatsapp Spiekbriefje met 25 geweldige tips om altijd die date te krijgen.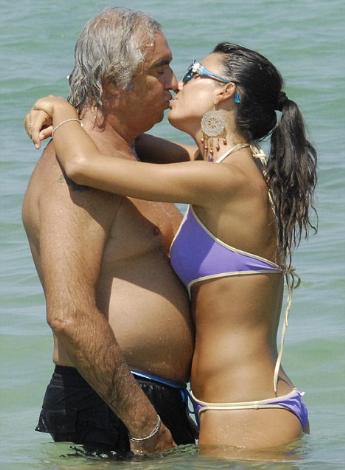 Nu is nog iets wat ervoor zorgt dat er koppels zijn die flink "mismatchen" qua aantrekkelijkheid.
Wanneer is uiterlijk
minder belangrijk?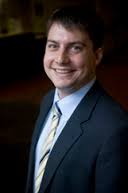 Paul Eastwick zegt dat als mensen elkaar leren kennen, uiterlijk er steeds minder toe doet.  Ook al is er wetenschappelijk bewijs dat het credo "opposites attract" (tegenstellingen elkaar aantrekke)  een enorme mythe is.
Studie na studie geeft aan dat mensen zich vooral tot elkaar aangetrokken voelen en met elkaar willen daten als ze hetzelfde zijn.  Blank date met blank, arm date met arm, knap date met knap, hoogopgeleid date met hoogopgeleid. Natuurlijk zijn er uitzonderingen, alleen meestal is het dat we min of meer hetzelfde willen. Dus een 7 gaat met een 7 en een 3 heeft veel minder tot nauwelijks kans met een 10.
Maar het is dus wel zo dat hoe langer mensen elkaar kennen, hoe meer kans er is dat een 3 bijvoorbeeld wel met een 10 kan gaan daten. Interessant gegeven want met al die datingapps tegenwoordig gaan die relaties met een flink gat tussen aantrekkelijkheid dus grotendeels uitsterven.
De Voordelen Van De Friend Zone
Dus sommige mensen ontmoeten elkaar terwijl ze allebei nog puistjes hadden. Anderen ontmoeten elkaar weer op het werk of versieren elkaar tijdens het uitgaan.

Lucy Hunt (een onderzoeker aan de universiteit van Austin, Texas) vond een interessante dynamiek toen zij besloot te onderzoeken of meer tijd invloed had op de mate hoe man en vrouw elkaar aantrekkelijk vonden. Ze nam daarvoor 167 koppels aan wie ze vroeg hoelang ze elkaar al kenden. Daarbij nam ze ook een groep proefpersonen aan die cijfers moesten geven over de aantrekkelijkheid van diezelfde man en vrouw.
Hieruit blijkt dat het dus inderdaad zo is dat hoe langer je elkaar van te voren kent, hoe meer kans je hebt om als een zesje met een 10  thuis te komen.
Blind date en elkaar kennen:
Het verschil?
Waarom is het dat mensen die bijvoorbeeld elkaar op een blind date ontmoeten succesvollere dates hebben met mensen die in dezelfde aantrekkelijkheidscategorie zitten?
En waarom is het dat als je elkaar al langer kent de mate van aantrekkelijkheid van de ander minder uitmaakt? Of is het dat je die ander aantrekkelijker gaat vinden naar mate je elkaar langer kent?
Stappen mensen die elkaar langer kennen makkelijker over "schoonheidsfoutjes" heen. Of gaat "versieren" dan minder over waarde en erkenning en kijk mij eens "een lekkere vent" of "lekker wijf" oppikken?
Goede vraag en na uitgebreid onderzoek kwam Lucy met intrigrerend inzicht in deze materie over aantrekkelijkheid.
Aan het begin van het schooljaar vroegen ze aan studenten welke personen ze in hun klas het meest begerenswaardig vonden. Nu aan het begin was over het algemeen wel een algehele overeenstemming over wie van hun klasgenoten het meest aantrekkelijk was.
Drie maanden later echter – toen de onderzoekers er weer naar vroegen – waren veel van de meningen veranderd. Cijfers voor aantrekkelijkheid gingen omhoog en omlaag. Persoonlijkheid heeft dus – als mensen de tijd krijgen om elkaars persoonlijkheid te ervaren – zeker invloed op hoe de mate van aantrekkelijkheid van iemand wordt ervaren.  Nog opvallender was dat de studenten het niet meer over het algemeen eens met elkaar waren. Waar de een iemands eerlijkheid waardeerde, vond de ander hem of haar irritant eerlijk en te direct.
Dus je perceptie van de waarde van een ander persoon wat betreft aantrekkelijkheid verandert steeds meer aan de hand van de hoeveelheid tijd die mensen met elkaar doorbrengen.
Verschil in perceptie van schoonheid
tussen man en vrouw.
Er is tegenwoordig een hoop harde data aanwezig door middel van allerlei datingsites. Het is gewoon een feit dat mensen leden van hetzelfde ras elkaar aantrekkelijker vinden. Het blijft ook dat soms wel 95 % van de mannen een bepaalde vrouw aantrekkelijk vinden. Er is echter geen enkele man te vinden die hetzelfde heeft. Een man is echt superaantrekkelijk als 40 % van de vrouwen "ja" zeggen tegen een bepaald soort man.
Dus het is wel zo dat vooral mannen de drijvende kracht zijn ten aanzien van dat je weinig stelletjes ziet waarbij de ene lelijk en de ander superknap is.
De DatingMarkt Wordt Harder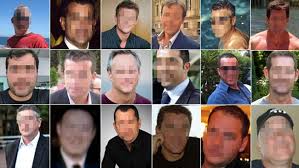 Waarom is dit nu belangrijk voor mensen die single zijn?
Op dit moment vinden mensen elkaar steeds minder via werk, school of vereniging en steeds meer via een datingapp (37 % ontmoet elkaar nu al via online dating) of een barretje.
Mensen gaan duidelijk nu meer relaties aan met mensen die ze ontmoet hebben via een eerste date dan via iemand leren kennen op bijvoorbeeld het werk. En dat maakt de datingmarkt een stuk oppervlakkiger en daarmee ook harder.
Nu stel je voor dat vier vrienden bij elkaar gaan wonen. Het appartement heeft 4 gelijkwaardig kamers, waarvan 1 echter nogal flink groter. Nu iedereen wil dus de grote kamer, waarna ze er om moeten gaan loten om tot een oplossing te komen.
Nu stel je voor dat ze in een ander appartement gaan wonen. Dit appartement heeft 4 kamers en 2 badkamers.  Waarvan 1 een kamer is in de kelder met weinig daglicht (klein kelderraampje) en daarbij nog een badkamer. Nu drie van de vier willen die kamer niet in de kelder, maar eentje juist wel omdat hij dan zijn eigen badkamer heeft.
Verder wil de ander de kamer met het balkon en de openslaande deuren, terwijl de ander gewoon de grootste kamer wilt.
Lelijkers met Knapperds
probleem of niet?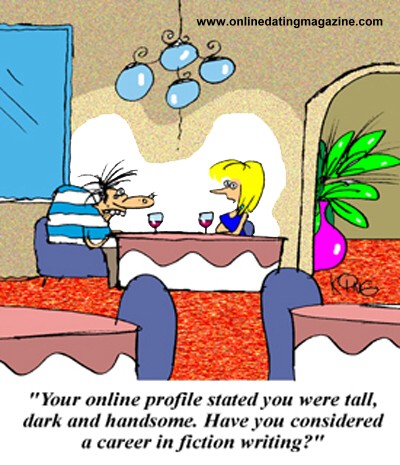 Dit is ook precies het verschil in daten wanneer mensen elkaar kennen en wanneer mensen elkaar niet kennen. In de huwelijks- of datingmarkt waar mensen elkaar niet kennen, zijn ze het dus min of meer met elkaar eens wie aantrekkelijk is en wie niet. Wanneer mensen elkaar leren kennen dan is situatie meer win-win-win-win-enzovoorts,  aangezien iedereen hun eigen voorkeur ontwikkelt voor wie aantrekkelijk is en wie niet.
Wellicht is het meer de vraag of een lelijke man en mooie vrouw of mooie man en lelijke vrouw minder gelukkig zijn dan stellen die ongeveer even aantrekkelijk zijn.
Of leidt dat de 1 meer oppervlakkig meer aantrekkelijk wordt gevonden dan de ander tot meer problemen in een relatie? Onderzoekers hebben in ieder geval geen enkel duidelijk verband gevonden dat het uitmaakt.
Dus als online dating en de nieuwe datingapps voor een gedeelte zorgt voor dat meer stellen met dezelfde aantrekkelijkheid een relatie hebben is daar geen verschil aan te wijzen.
Echter wat wel een probleem kan worden is dat via onlinedating (nu al 37 % van alle relaties) ieder meer in dezelfde vijver gaat vissen. Dat is nu al natuurlijk dat vooral vrouwen met een aantrekkelijk uiterlijk makkelijk meer dan 200 matches per dag hebben. En daarbij komt nog dat de persoonlijke conversatieskill steeds minder wordt.
Niet zo knap?
Leer dan vrouwen versieren!
Je ziet dus dat je als niet zo knappe man (en dus weinig geluk met online daten) je des te meer aan de gang moet om vrouwen te leren kennen. Tenminste als naast leuk en intelligent en zorgzaam en aardig ook een knappe vrouw wilt. Het oog wil ook wat toch?
Aantrekkelijkheid Staat Niet Gelijk Aan Aantrekkingskracht
Het is dus nu wetenschappelijk bewezen dat aantrekkelijkheid en aantrekkingskracht kunnen genereren twee verschillende dingen zijn. Het heeft natuurlijk met elkaar te maken. Echter als jij jezelf kan presenteren op een leuke manier dan is uiterlijk opeens niet zo'n belangrijke factor meer.
En voor vrouwen geldt dan nog eens extra. Dat wordt nog eens onderstreept doordat onderzoek dat maximaal 40 % van de vrouwen een bepaalde man aantrekkelijk vindt. Dit ten opzichte dat meer dan 90 % van de mannen een bepaalde vrouw aantrekkelijk vindt.
Voorlopig heb ik dus nog wel werk denk ik….Heeft dit artikel je interesse gewekt en wil je ook onze hulp? Je kunt gratis het boek Uitgaan van Jezelf op de homepage downloaden met allerlei tips over vrouwen versieren. Daarnaast als je gelijk serieus aan de slag wilt, kun jij je al vast opgeven voor een gratis proefles vrouwen versieren leren. Gewoon een berichtje sturen met je naam en telefoonnummer naar info@datingdoctors.nl. Je uiterlijk hoeft niet het probleem te zijn in ieder geval!
Pim
www.datingdoctors.nl
Voor nog veel meer tips, bekijk ook eens deze artikelen:
Oh, en vergeet hieronder je gratis download niet ;)